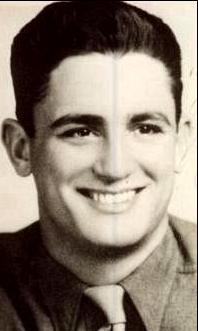 Samuel J. Vincenzo
Born February 02, 1923 - Died March 29, 2006

In Memory of Our Dad, Husband, Gramps, Brother, Uncle, Fiend, and #1 Yankee Fan.

You are going to be missed by those who love you, but is is comforting to know that you are finally seeing your Mon, Dad, brothers, sisters, and all who have gone on before you. It must have been overwhelming for you, especially with all of those puppy, kitty and Missy licks and kisses and hugs competing for your attention !!

Samuel J. Vincenzo, 83, of Enfield, beloved husband of Paula (Busque) Vincenzo, entered into eternal rest on Wednesday, March 29, 2006 at Johnson Memorial Hospital. Born on February 2, 1923 in Pierce, West Virginia, he was the son of the late John and Christine (Ficcacelli) Vincenzo.

Mr. Vincenzo was a veteran of the United States Army, 106th Division - 1st unit in the Battle of the Bulge.

Samuel resided in the Enfield community since 1975. He was employed at Pratt & Whitney Aircraft in East Hartford for 30 years; working in the Security Department, retiring in 1982. A loving father, brother, grandfather, and great-grandfather, Samuel is survived by his sons: Samuel Vincenzo of MA, Frank Vincenzo of Stafford, Peter Vincenzo of Enfield, Mark Vincenzo of Enfield; three daughters: Deborah Young of Ellington, Jay St. George of Colchester, Darlene Young of FL; a brother Joseph Vincenzo of FL; two sisters: Jay Cataldi of Hartford, Carol Villano of East Hartford, and: twenty-eight grandchildren and three great-grandchildren, and several nieces and nephews. Samuel was predeceased by four brothers: Dominick Vincenzo, Frank Vincenzo, Peter Vincenzo, and Michael Vincenzo; three sisters: Louise Cancelleri, Catherine Leet, and Emma Coab. A private Mass of Christian Burial will be celebrated at Mount Saint Benedict Cemetery in Bloomfield, with military honors. The family will receive relatives and friends during visitation hours on Sunday, April 2, 2006, from 2 - 5 pm at Leete-Stevens Enfield Chapel 61 South Road in Enfield.