106th RECON TROOP SAILS TO EUROPE
The Morning Report for November 10, 1944, is short but significant.
"RECORD OF EVENTS – Departed staging area this date for unknown destination per verbal order Port Commander B.P.O.E. Embarked from continental limits U.S. this date."
On November 10, 1944, the following units were boarded on the USS Wakefield for transportation to Europe; they were the last of the 10,000 soldiers of the 106th Infantry Division to deploy to Europe:
"81st Engineer Combat Battalion,
Division Artillery (589th, 590th, 591st, 592nd)
Field Artillery Battalions,
Division Artillery Headquarters Battery,
106th Reconnaissance Troop
(All above troops from the106th Infantry Division)
Plus a Battalion of black Quartermaster troops"
USS Wakefield
<![if !vml]>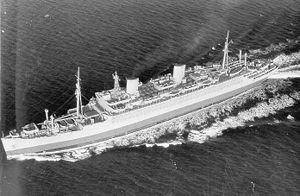 <![endif]>
Embarkation was from Boston, Massachusetts, and the ship, due to its speed, sailed alone and not in a convoy.
In many cases, Wakefield operated as a "lone wolf", except for air coverage a few miles out of a port. Her primary port of call in the European theater was Liverpool - visited so often in fact that the transport's crew nicknamed her "The Boston and Liverpool Ferry." The average round-trip voyage took 18 days. After D-Day, 6 June 1944, Wakefield began the first of her trips as a casualty-evacuation ship, bringing home wounded GI's. On occasion, she also brought back German prisoners of war for internment in the United States.
Debarkation was on November 17, 1944, in Liverpool, England, with everyone arriving in Stow on the Wold, England, at 1400 hours the next day.
The entire 106th Infantry Division spent the next two weeks drawing equipment and armament.
<![if !vml]>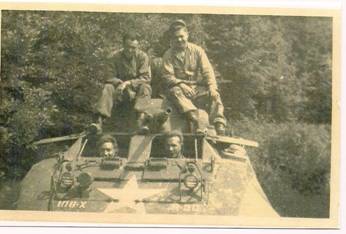 <![endif]>
"We were issued 3 light tanks before leaving for Europe"
Top Left PFC John Ritter and Top Right T/5 Earl Liston (others unknown)
On December 7th the Recon Troop arrived in LeHarve, France.
On December 12th the 106th Recon Troop was deployed to Grosslangenfeld, Germany, with orders to defend the town and access roads.