Dominic Bocchino




422nd 3rd Battalion Co. K
106th Infantry Division <![if !vml]>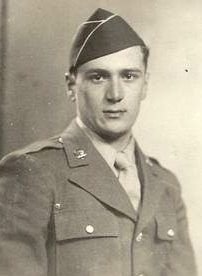 <![endif]>

April 1944, after basic training.

I had my basic training at Camp Croft, South Carolina from there went to Camp Shelby, Miss. for maneuvers and advanced training. I wasn't there very long when we were sent to Camp Atterbury to join the 106th Infantry Division. I was assigned to the 422nd 3rd Battalion Co. K.

From here we went to Camp Myles Sdandish then to the Port of NY and boarded the USS Aquitania. We arrived at Greenock, Scotland then by train we went to Stow on the Wold, in England. While here I got a weekend pass to visit my brother in the Air Force at a base near Freckleton.

Around the 1st of Dec. we started to move out of Stow on the Wold to cross the English Channel then through France to St. Vith, Belgium to relieve the 2nd Infantry Div. along the Siegfried Line.

On Dec. 12, 1944 the 106th Div. assumed responsibility for this sector.

Dec. 16th the Germans started a massive attack, I was taken POW Dec 19 after Colonel Descheneaux and Colonel Cavender surrendered to the Germans. The German guards marched us to the railroad yard in Gerolstein.

The next day we were put on Boxcars and stayed there through Christmas day. (I won't go into the food and treatment aspect of being a POW because we all experienced about the same things.) While there we could hear the US and British Air force bombing raids near by. After a few days we arrived at the Muhlberg railroad yard, taken off the Boxcars and marched to Stalag IV B. Here we were registered as POW's and given a POW Tag my # 312890, showered and given POW clothes.

I received my 1st and only Red Cross Parcel while here. After a few days I was included in a group of about 20 POW's to go on a work detail, we had to carry long logs out of the forest to the roadside. I don't remember how long we did this but from here they marched us to the outskirts of Dresden and put up in the attic floor of a large building that included a wood working shop were some of us had to work, I had to put together small wooden boxes.

On the night of Feb. 13 the British bombers dropped firebombs on the city of Dresden and the US bombers dropped their bombs the next day. The city of Dresden was completely destroyed. From here they kept marching us further away from the advancing US army until we got near to Prague, Czechoslovakia. Here the guards seemed not to care what was going on so a few us walked away from the group until we ran into some Russian soldiers who were celebrating.

After we convinced them we were American soldiers they made us understand that the war was over. From here we started to walk towards the American forces. When we ran into them they took us to an Airport where there was a C47 waiting to fly us to France, there were about 50 of us on the plane.

They took us to Camp Lucky Strike where we were given a new set of clothes and everything we needed. After we showered and got dressed they gave us a physical and were debriefed concerning the treatment we received as POW's. On June 11, 1945 we left France for home on a Liberty ship.

After a 2 week furlough they sent me to a Rest and Recovery Center in Florida for about 3 months. From here I was sent to Fort Meade where I was discharged from the Army on Dec 01, 1945.