ADDITIONAL INFORMATION:

• Flint Whitlock is finishing a manuscript on Bad Orb and other German POW camps. The book is expected to be published this year, with the title: Given Up for Dead: American GI's in the Nazi Concentration Camp at Berga. Several of these photos of Bad Orb were contributed and will hopefully be included.

• Barbara B. kindly sent a copy of this Bad Orb photo from the National Archives: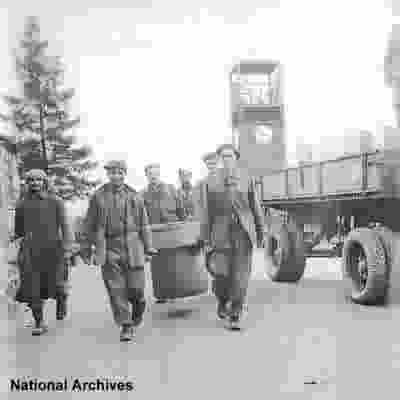 • Mr. Windholz has research at his Stalag IXB website. He sent me the following list of U.S. camp deaths at Bad Orb from January - April 1945. The crosses in the photos above may represent temporary markers for these casualties.
Stalag IX B, American Compound, Camp Deaths
Jan. 26, 1945 to Apr. 1, 1945
Transcribed by O. M. Windholz from a hand written document kept by Pvt. Edmund Pfannenstiel, 2nd American Chief Man of Confidence
Hudson, Edward R. /
Larson, Robert A. /
Leusinring, R.V. /
Smith, Jack /
Casados, V.E. /
Breckfel, H.S. /
Francis, J.O. /
Bubb, K.C. /
Bakkum, S.E. /
Kozaska, Timothy /
Boynton, Robert H. /
Knight, Ralph /
Pearson, Edwin H. /
Sherwood, James /
Nyquist, Robert /
Cardini, Albert R. /
Sadler, Lester R. /
Dieffenthaler, W.J. /
Howell, Ernest E. /
Klippel, Edward A. /
Dunivan, Marvin C. /
Schwartz, Merle D. /
Murray, Gilbert P. /
Efteland, John /
Winebrenner, Lester /
DeMuth, Russell /
Edris, George L. /
Rudnan, Bernard /
Jungen, Joseph /
Rapodole, Wm (English soldier) /
Siegrist, Robert H. /
Licht, Edwin M. /
Mayer O.D. /
English, W.A. /
Rumsey, Gudson H. /
Haile, Lewis M. /
Runnels, Floyd M. /
Thompson, George
• Another site with information on Stalag IXB: 44th Infantry Division Site
• To contact me, please e-mail badorb@lonesentry.com.