July 4th 1924 - December 30th 2006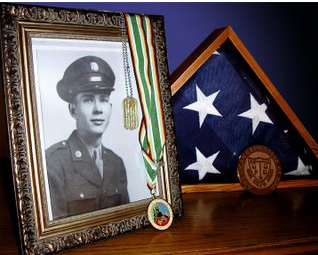 My father passed away December of 2006 at his home in Indian Trail, NC. He proudly served his country in WWII as a member of the US Army, 106th Infantry Division, 422nd Regiment, HQ Company, I&R Platoon. During his brief but eventful service, at the young age of 20, he fought in the Battle of the Bulge, the largest land battle of WWII. He was captured near the town of Bleialf, Germany, on December 19th 1944 when his convoy ran into German forces and mines. Low on ammunition, food, and medical supplies, Captain Foster surrendered the column. He was a POW at Stalags IX-B and IX-A for 4 months.
For his service he received the Bronze Star for meritorious service in battle. The Combat Infantry Badge, Expert Infantry Badge, Good Conduct Medal, Ex-POW Medal, Victory in Europe Medal, and the Victory in WWII Medal.

Rob is survived by his Wife, 4 Children, 6 Grandchildren, and 2 Great Grandchildren.
My father (then 20 today a ripe age of 82) was a recon NCO T-5 (technical corporal) in the 106th division, 422 regiment attached to the Regimental HQ I&R platoon (Intelligence and Reconnaissance). An intelligence and reconnaissance platoon consisted of 2 9-man reconnaissance squads and a 7-man headquarters section.

Their primary objective was to gather intelligence for the regimental commander. The platoon must operate patrols, man observation posts, and coordinate the intelligence activities of the regiment. They were instructed to not engage the enemy to prevent discovery of their presence.