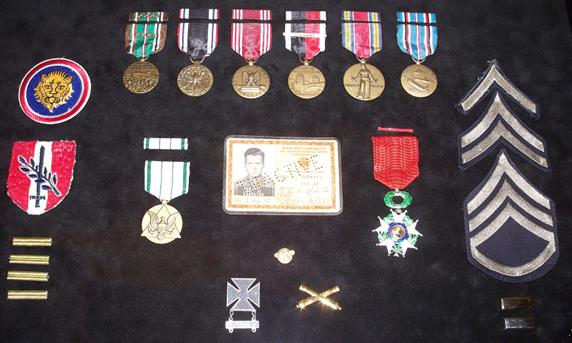 Military recollections by John ( Jack ) M. Roberts
I was living with my parents in Hamilton, Ohio when I was drafted in the army at 18-years of age on March 1, 1943. For basic training I was sent to the army camp at Ft. Jackson, South Carolina and assigned to the 106th Infantry Division which was a new division just being formed. I was assigned to Battery "C" of the 592nd Field Artillery Battalion, a medium howitzer battalion (155mm). I remained with this unit throughout my basic training, advanced training and most of my combat experience in Europe. During basic training at Ft. Jackson I was promoted to the ranks of Private First Class and Corporal.
On January 20, 1944 the 106th Infantry Division left Ft. Jackson, SC and traveled by truck convoy to the state of Tennessee in a desolate area southeast of Nashville, TN where the Division went on full scale maneuvers. Maneuvers lasted for almost two months in the coldest and wettest winter in Tennessee history. When maneuvers ended our Division left the area by truck convoy and traveled 128 miles to Camp Atterbury, Indiana (near Indianapolis) arriving there on March 28, 1944 for further advanced training in preparation for going overseas and into combat.
While at Camp Atterbury I was only about 100-miles from Hamilton, Ohio, my home town. At every opportunity I went home . It was in Hamilton and during these weekend visits when I visited my parents that I began to date Mary Lou Staarmann, a girl I knew as a co-worker when we worked for a men's clothing store before I left for the Army. Our Division was making preparations to go overseas. On the last weekend that we were permitted to have visitors at the camp my mother and father brought May Lou to visit me and on that Sunday, September 19 we became engaged but agreed to wait until the war was over before we would be married.
On October 8. 1944, the 106th Infantry Division left Camp Atterbury by train destined for Camp Miles Standish, near Boston, Massachusetts, to prepare to sail to Europe. It took two large troop ships, the AQUITANIA and the USSG WAKEFIELD to carry our Division overseas. On November 10, 1944 I boarded the USSG WAKEFIELD which carried all four battalions of the Field Artillery (589th, 590th , 591st & 592nd) along with several other smaller units of the Division.
The WAKEFIELD encountered very rough waters on the Atlantic Ocean at that time of year and many of the soldiers became seasick but I did not! The USSG WAKEFIELD sailed alone without a naval escort which was scary. The ship sailed on a zigzag course to avoid German U-boat detection that may have been in the area to target American troop or supply ships.
After seven days on the water the USSG WAKEFIELD arrived safely on November 16, 1944 at its destination and docked in Liverpool, England. At 2300 hours the 592nd Field Artillery Battalion departed from the ship and walked to waiting Quartermaster trucks where we were transported to Gloucester, England. It was at Gloucester that we obtained all of our final combat equipment and for the next two weeks prepared to enter fighting. Other units of the 106th Division were stationed around that general area of England.
On December 1, 1944 we mounted our vehicles in full battle gear and left our camp at Gloucester and drove in convoy to Weymouth, England, a port of embarkation to cross the English Channel. After an overnight's stay, on December 2 we drove our vehicles, with soldiers inside, into the belly of LSTs (Landing Ship Tank) which were used to transport soldiers and equipment across the English Channel.
On December 2 we boarded our assigned LST and shoved off for the port at Le Harve, France. The English Channel was so rough due to wind and rain that it was impossible for any flat bottomed ship like an LST to remain stable under such weather conditions. For the next three days our LSTs tossed and bobbled like a fishing float while anchored off the coast of France. There were no bunks on the ship and no food to amount to anything as the ship did not stock up on food for such an ordinary short trip. In order to sleep we slept sitting inside our assigned vehicles in the bowels of the LST and ate the emergency rations which we kept in our back packs. Again,. many of the soldiers became sea sick. What a way to enter combat.
After the seas finally calmed down enough to navigate, some of the LSTs entered the port at Le Harve, France and discharged their vehicles and men. However, the LST I was on continued up the Seine River where we disembarked from the ship at Rouen, France.
Upon reaching our location the LST pointed its hull at the embankment and plunged on to the shore line. Soon the its huge steel doors opened and our vehicles drove off the ship using 4-wheel drive to get through the mud. Some vehicles got stuck and had to use their winches to pull out of the mire. The 1/4-ton truck I was riding in never got stuck so we kept right on going and continued to drive across France. Before reaching the front lines we stopped only two times for a night's bivouac. What an ungodly ride that was!
These preceding paragraphs give background information leading up to my combat experiences which began on December 10, 1944 when our Battery "C" of the 592nd Field Artillery Battalion arrived at its combat position in Laudesfeld, Germany. The entire 106th Infantry Division relieved the 2nd Infantry Division..... man for man and gun for gun.
The following story tells some of the horrors of combat and how a group of young soldiers, I was 20-years old at the time, endured the hardships of combat. What I will iterate is only one example of what many others in our generation did in order to give to their fellow countrymen and future generations the privilege to continue to live in a free society.
Ambushed, Captured & Escaped
Ambushed
On December 16, 1944 at 0530 hours I woke up at the sound of massive artillery shells falling in the vicinity of our battery position in Laudesfeld, Germany. What an eerie sound it was. Some of us where sleeping on the second floor of an old farm house. I immediately crawled out of my bed roll (fully clothed) and ran downstairs to find out what was happening as others followed me. We were originally told that this sector was quiet with very little enemy action and we should consider ourselves fortunate.
Enemy artillery shells where falling all around but our battery experienced no direct hits from the barrage. The Germans used all calibers of artillery, up to and including 14-inch shells from railway guns which came crashing all along the 26-mile front held by the 106th Division and deep into its positions. Flares of red, green, amber and white flickered over the tree tops. Wire communications were ripped apart. The sudden impact of shelling was a thing to fill the heart with terror, especially for a 20-year old kids first experience of combat.
In forests, tree bursts showered branches and splinters and sent trunks crashing in the snow. German screaming meemie (88 mm) shells rasped nerves already tense. By 0615 hours the shelling had stopped. I guess our location being nestled in the valley of the Ardennes was one of the reasons we were spared. Our light artillery battalions, the 589th, 590th and 591st received scattered hits.
It didn't take long before those who had been sleeping were up and scurrying around and no one knowing what was going on. This was another experience in the reality of battle. Our Lieutenant had no idea what was happening nor could he find out. What we would learn later was that the shelling that morning was the start of the "Battle of the Bulge".
In spite of all what had happened we had breakfast about 0700 hours and then dawn began to break to a cloudy, damp, cold and foggy morning. The stillness was eerie. Those of us who were scheduled to go to the Forward Observation Post (FOP) at Roth Germany that morning began to ready our two vehicles. We loaded our bed rolls and picked up our "K" rations since we were scheduled to be up front for several days. When our tour of duty at the FOP ended we were to be relieved by a different team. I had a gut feeling that all was not quite right that morning, but could mot tell myself just why.
At about 0800 hours we mounted our vehicles with our carbines slung over our shoulders. The lead vehicle was a jeep and the second vehicle was a Dodge 1/4-ton truck (weapons carrier). I was to ride in the rear seat of the jeep. Lt. Rex C. Matson, the Forward Observer was in the front seat with PFC Larry Loudon, the jeep driver.
The jeep, with the officer in command, would lead the two vehicle convoy. The second vehicle, the weapons carrier, had a 50 caliber machine gun mounted on a pedestal in the center of the truck and just behind the front seat. No vehicles carrying personnel while in combat were allowed to have canvas tops on them because they hindered observation and impeded quick personnel exit, as I was soon to find out.
The weapons carrier was driven by PFC. Terrill Rigdon and sitting in the front seat with him was T/5 Harold Hallberg, radio operator. In the rear of the weapons carrier were seven men, all wiremen, whose job is was to reestablish telephone communications between the Forward Observation :Post at Roth, Germany and the gun position at Laudesfeld since our telephone communications were knocked out by the shelling that morning they had to start tracing the lines from the forward outpost. One of the wiremen in the rear of the weapons carrier was Howard Hoffmeyer, a good friend of mine and Larry Loudon, the jeep driver.
We left our battery position and as we pulled away I waved good-bye to my two buddies, Bill Sewert and Carl Himberg. We then stopped at our G-2 Divisional Artillery Headquarters to get the latest information as to what was happening. Major Morgan, the Intelligence Officer, approached our jeep and told Lt. Matson that the shelling in the early morning hours was normal and we should proceed on our mission to Roth, Germany to relieve the personnel at the Forward Observation Post. Apparently the Major didn't know any more than we did. Little did I realize as we pulled away that I would not see my unit again until December 21, six days later.
The distance from Laudesfeld to Roth was about five miles. Driving to our Forward Observation Post at Roth on the snow covered two lane road we could see the shattered and uprooted trees as well as the black craters made in fields of white snow where artillery and mortar shells landed from the early barrages. Just as we entered a clearing with no trees to obstruct our approach to Roth all hell broke loose. German soldiers were firing at us in cross-fire using "burp" guns, machine guns and rife fire. We were being ambushed. Bullets where whizzing all around us and piercing our two vehicles. Both drivers slammed on the brakes and brought their vehicles to a skidding halt.
Our jeep driver, Larry Loudon, seated directly in front of me, was immediately hit in the right shoulder. The soldier assigned to operate the 50caliber machine gun which was mounted on a pedestal on the weapons carrier was killed before he could fire a shot. Another soldier, Howard Hoffmeyer, was shot in the forehead right between the eyes as he was seated in the rear of the weapons carrier.
The rest of us scrambled for cover. I jumped from the rear seat of the jeep into the ditch on the left side of the road. I think I only hit the road with one foot before making a dive head first into a snow bank. The ambush was a complete surprise since our field of vision was limited by the low hanging fog.
For whatever reason, the rest of the guys chose to jump into the ditch on the right side of the road for cover. The good Lord smiled on me that morning, because the terrain on the left side of the road provided better cover than the right side. I could hear the bullets whizzing over my head and see that some of them were hitting the ground nearby. I could see enough of the top of the road without getting my head blown off.
I heard a couple of the guys yell on the other side of the road when they were hit with a bullet. I yelled to Lt. Matson, even though I couldn't see him, to tell him that my side of the road offered better protection because of the slope of the terrain. He then made the mad dash to my side of the road and made it without being hit. A couple of others tried to but were hit by bullets.
I saw some movement at the edge of the forest in front of me where the Germans were firing their weapons. I returned their fire with my carbine emptying the magazines I had in my ammunition belt. Anything I saw moving in the distance I shot at. It was difficult to see but what we would learn later was the fact that the German soldiers were dressed in white and their guns were even painted white to blend in with the snow.
The little fire power we had was useless next to the overwhelming fire power of the German soldiers. When I looked at our wounded I could see the painful expression on their faces. They were in no position to fight back. I could see the windshield shattered in the weapons carrier and hear the vehicle's tires being blown out from the bullets hitting their mark. The jeep I was in rolled into the ditch and overturned after Larry Loudon, Lt. Matson and I jumped out.
The small arms cross-fire assault continued and our return fire also continued. Lt. Matson said that someone should mount the weapons carrier sitting on the road and fire the 50-caliber machine gun. I told him that he was out of his mind if he thought anyone could make it that far. It was suicide. :Lt. Matson said, "I'll do it!" I pleaded with him not to try it, but he did anyway. He stood up and no more than got to the edge of the road when he was caught in a hail of gun fire and was immediately hit in the left arm and came tumbling back into the ditch groaning in pain.
Lt. Matson asked me what I thought we should do and I told him that under the overwhelming odds we had no alternative but to surrender. The guys who had made it across to my side of the road agreed with me. The only guys who were not injured at this point were me and T/4 Harold Hallberg. Terrill Rigdon had a flesh wound but did not know it until later.
By this time the fog had lifted just enough to see in the short distance the massive fire power of the German Army. There were tanks and other armored vehicles, cannons, soldiers, etc., all poised with their muzzles pointed in our general direction.
Captured
Lt. Matson then gave me the order to surrender. I reached in my pocket and pulled out a handkerchief which was the only thing white I had and which I had used a few times. I tied it to the tip of the barrel on my carbine and began to wave it. The firing stopped and about twenty screaming German soldiers came rushing toward us dressed in white and each carrying either a "burp" gun or a rifle which were painted white. The Germans acted as if they were high on something such as liquor or drugs or they tasted victory over the Americans.
Those of us who were able to raise our hands did so. The severely wounded just laid on the ground. Three of the Germans came to my side of the road and three to the other side since all the guys did not make it to my side. Other Germans soldiers ran by us and continued down the road toward the village of Auw. The Germans who took us prisoners did not speak English and none of us could speak German. The end of a gun barrel pointing at us is an international language.
The three soldiers that came to my side of the road yelled at us and motioned for us to go to the other side of the road. They immediately took our weapons and all of our personal possessions including my Waltham wristwatch which I received as a high school graduation present from my grandmother.
During the entire episode our captors kept screaming at us in German. One of the German soldiers started to take the dog tags from the necks of our two dead comrades and when I hollered at him to stop one of the other German soldiers screamed at me and stuck the barrel of his "burp gun" in my stomach. I thought I was going to be killed. I shut up immediately but they did not remove the dog tags.
From the time we were ambushed until now, I would guess that about twenty minutes had elapsed. The noise of the tanks, artillery, cannons, machine guns, etc., coming from the forest in front of us was deafening. The German offensive through the American front lines had begun that morning and our small party were some its first victims and we were right in the middle of it. At least our little group was able to hold off the Germans for a few precious minutes that morning.
Our captors barked some commands at us and pointed their guns toward the chatter of noise and motioned for us to start walking toward a clump of evergreen trees at the edge of the forest. It bothered me that we had to leave our dead lying there. Those of us who could walk helped to carry our wounded. I assigned myself to help Larry Loudon, although he could walk, he was losing a lot of blood from the wound in his shoulder. I always liked Larry and I felt that by giving him support he would be able to make it wherever our destination might be.
This was my second experience in the Army to witness death. On one of our night field maneuvers at Ft. Jackson, SC one of our "C" battery trucks upset and killed a soldier. Now it was a combat experience. Little did I realize the number of dead soldiers (American, British, French & German) I would see within the next few months. This combat skirmish had a dramatic effect on me. As I walked along carrying my wounded buddy I made up my mind that the first chance I had to get the hell out of that situation I would do it. I just couldn't see myself being locked up for a long period of time. I confess that I did an awful lot of praying to the good Lord and obviously he heard me. I did not want to be a prisoner of war.
Under guard the nine of us trudged through the snow across the clearing and into the forest. We were marched directly into the German's front line command post. I saw German soldiers, officers, various weapons and equipment such as tanks, anti-tank vehicles and another odd looking massive piece of equipment which I learned later to be a self-propelled armored artillery piece called a Sturmgeschutz that looks very much like a tank. The vehicles had their engines running and were moving further into the American front lines.
The German officers were barking orders and looking at maps laid out on tables and hanging on trees. The Germans were continually firing their heavy equipment at the American positions without let up. The stench of the fuel, engine exhausts, gun powder and the loud noise of the motors confined within the forest was both deafening and frightening.
There was no way we could communicate with our Battery Commander, Captain Robert W. Smith, to tell him what was going on and what happened to us. We were among the very first to be captured at the start of the Battle of the Bulge and were now prisoners of war.
What I learned later was, our captors were members of the 294th Regiment of the German 18th Volksgrenadier Division which was part of the Sixth SS Panzer Army. Their mission was to overrun Roth, Auw and Schonberg which were the principal villages in the path to their ultimate goal of capturing the town of St. Vith, Belgium, which was a vital road junction, in the first 24 hours of their surprise attack.
Two German soldiers in regular uniforms were assigned to march us from the German command post. We headed, I would learn later, in a north by northwest direction crossing over the border of Germany and into Belgium.. Walking in the deep snow was quite slow because of our wounded comrades. In order to get us to walk faster the German guards prodded us with their weapons and hollered at us in German and on occasions pointed their "burp guns" as us and acted as if they were going to shoot us. Many times during our march we had to fall to the ground because of the artillery and/or mortar shells falling around us. We had no way of knowing whether the shelling was from German or American guns.
After the initial shock of what happened to our group, one's mind begins to try to rationalize once again and a person begins to ask himself questions for which there are no answers, such as: Where are they taking us? Did these guards receive orders at the Command Post to march us out in the field someplace and then kill us? Are they taking us to a German Prisoner of War (POW) compound? If so, where will it be? How will I be treated in a POW compound because I heard many gruesome stories during orientation sessions in basic training about the way captured American soldiers were treated. If I do reach a POW compound, will I be able to escape? If so, how will I ever get out of Germany? How long will the war last? Days? Years? All questions but no answers.
Other questions came to mind...... Will my parents be notified as to what happened to me? If so, when? What will my fianceé Mary Lou say or do? Will she wonder why I quit writing letters? I thought about my brother Bob in the Navy in the South Pacific.... what will his reaction be to the news? Will I be listed as missing in action or as a prisoner of war? And still no answers to my self imposed questions.
Trudging across a field through five inches of snow is not an easy task when one's nerves are tense and you are trying to carry your wounded comrades. Because of their pain and loss of blood my fellow soldiers became weaker. I continued to half carry Larry Loudon and because of his pain and loss of blood he became almost dead weight. I believe I had as much of Larry's blood on my clothes as he did on himself. Our wounded pleaded for medical attention but to no avail. I thought to myself, except for the grace of God, I could be one of the wounded. Knowing I was not out of danger I continued to pray as I walked along asking for God's intervention.
As we continued to walk we came upon a creek at the bottom of a ravine which we had to cross. The others made it across the frozen creek without any problem but when Larry and I crossed together we just about reached the shoreline on the other side when all at once both Larry and I broke through the ice. His weight, combined with mine, caused the ice to break. Ice water immediately rushed inside our combat boots. My feet were already cold and now my feet and legs were soaking wet. With ice water in your boots trudging through snow in the wintertime is extremely uncomfortable and demoralizing under such circumstances. This accident did not help my mental. outlook. Our hands and arms were also wet from picking ourselves up out of the water. Our German captors just stood and laughed at us.
Since the German guards took my watch I had no way of telling what time it was. The dark gray skies with no sun light left no clue as to the time of day nor the direction we were walking. I could only assume that it was in the early afternoon. And just about that time we found ourselves being marched up a slope across an open field from the ravine where we fell through the ice. We were now headed toward a small village in the distance. I could see that the village contained several farm houses and barns. By this time we had walked and carried our wounded what seemed to be a couple of miles since being captured.
The Escape
As our group neared the village, a narrow lane opened up between two hedge rows. The German soldiers marched us ahead of them and into the lane. I was in the lead still carrying Larry Loudon and my fellow 592 FA Bn. "C" Battery comrades were right behind me. As we rounded a small bend in the lane I saw at the far end that it dead ended at a road that led into the village. I would learn later that the village was named Weckerath.
Just as our group rounded the bend I happened to look ahead to see an American tank crossing at the end of the lane. The turret gunner on top of the tank looked down the hedge row and saw us coming. I hollered to the guys behind me, "Hit the dirt!" We all dove for the ground and that gave the turret gunner a clear view of our German guards. The Germans, not understanding English, had no idea as to what I said and just stood there. By the time the turret gunner pointed his machine gun down the lane toward the Germans for a line of fire, the tank driver, being down inside the tank and unaware of our plight, continued driving past the intersection.
To our good fortune an American Sergeant with a sub-machine gun was walking behind the tank and saw what had just happened. At that same time the German guards saw the Sergeant, turned and began running down the hedgerow with the Sergeant in pursuit. We heard shots but I have no idea as to what happened but I have confidence the Sergeant did his job. We pulled ourselves up off the ground and began to walk towards the road to follow the path of the tank into the village.
Just before we reached the end of the lane a barrage of shells, either German or American, fell on the village and quite close to us and we all dove for protection at the first thing we saw. Several of us dove for what we thought was a pile of snow next to a barn. It turned out to be a large pile of cow manure covered with snow. Fortunately most of the manure was frozen so when we pulled ourselves away from the pile we didn't have much manure clinging to our clothes.
We continued walking and followed the road into the village where the tank had traveled. After several yards we ran into a Cavalry Captain. He pulled us inside a building. The captain wanted to know how we got there and was concerned about our wounded. He asked me if I was wounded and I told him I was alright as all the blood on me was from carrying my buddy. We quickly told him what happened to us during the past few hours. He told us to stay with his unit but warned us that the Germans had the village surrounded and we had no real avenue of escape.
We learned that we had stumbled across Troop "C" of the 14th Cavalry Group. The Captain told us that he only had a few men left as many of the cavalrymen had been either killed or captured. You can imagine how we felt about this dilemma. Free of our captors, but not yet free at all. We were again faced with the possibility of being killed or captured if the Germans stormed the village. The Captain also told us that if we remained there much longer we would be blown to pieces as the artillery had zeroed in on the village. He said our only chance of survival was to make a break and try to get out of there.
Daylight was growing short and dusk would be settling upon us before long and none of us were very keen about being in a village that was surrounded and being shelled throughout the night. We would surely be captured if not killed. In the meantime the sparsely manned "C" Group of the 14th Cavalry Group was returning the enemy's fire. The wounded needed immediate medical attention. The Captain made his decision to escape the village immediately.
That time of the year in Germany, the first twinge of light began at 0645 hours followed by sunrise at 0730 hours, if there was a sunrise. The start of twilight began around 1640 hours and darkness began to fall about 1713 hours. The Captain told the three of us that he was limited with the number of weapons he had. He gave Hallberg an .45 caliber pistol and a rifle to Rigdon. He told me that all he had to offer me were some hand grenades. I shoved four of them into my pockets. All of this was happening in a matter of a few precious minutes. He ordered all driveable vehicles to assemble in the center of the village and then sent word to his men defending the village to mount the trucks for a quick exit. Our mission at this point was to make a run for the next village which I learned later that it was the village of Manderfeld and located across the border in Belgium. In Manderfeld was a First Aid Station. One can imagine the pain and agony of our wounded who had been shot some seven or eight hours earlier that day and because of their loss of blood they were in a very weakened condition. In Weckerath their were also wounded cavalrymen in similar condition.
The Captain was a cool commander. He barked orders but not out of fear but rather out of confidence. We all trusted his leadership. He said that we would vacate the village in two waves. The first wave would consist of the seriously wounded in the armored vehicles and the others who were not as seriously wounded along with those of us who were not wounded would leave immediately after in the second wave in the remaining vehicles.
We helped load the wounded in their assigned vehicles. Their escape would be lead by the tank down the same road where our group followed the tank earlier. It was felt that the first wave rushing out of the village would surprise the Germans and with the fire power of the armored vehicles would help the group make their escape. Under full power the first wave left and as soon as they broke into the open area we could hear the small arms fire of the Germans firing on the convoy. Now it was time for the rest of us to mount up in the remaining vehicles for our attempted escape. As we were about to mount our vehicle I could see buildings, telephone poles, trees, barns, etc. burning from receiving direct artillery hits. I knew we had to get out of there fast.
Hallberg, Rigdon and I were told to ride in the back of a GMC 2-1/2 ton truck with a couple of the 14th Cavalry guys. There is not much protection from bullets on a 2 1/2 ton truck. The floor of the truck and about two feet up from the floor on the sides, is constructed of a thin layer of steel. The upper sides are made of wood slats. The Captain would ride in a jeep with a driver and followed us by being the last vehicle out of Weckerath.
Those of us in the back of the GMC truck laid flat on the steel bed. Shells continued dropping in. When it was our turn to move out our driver put the truck in all gears in rapid succession and down the icy snow covered road we went through the village, "hell bent for election". When we got to the point were the open area was at the end of the village we too came under German small arms crossfire where they opened up on us. As I laid on the steel bed of the truck I could see the splinters flying off the wood slats just above my head where the bullets were hitting. The truck was bouncing like crazy and my steel helmet was bouncing even worse on the steel truck bed during that fast and furious one mile ride to Manderfeld..
The road was nothing more than a one lane farm road covered with snow and ice. The only thing I could think of at the time was, if our driver gets hit and loses control of his truck we may flip over and all of us will be killed or surely injured. Also, if he doesn't get hit and the Germans bullets blow out the tires, at that rate of speed the same thing will happen. I also, thought if we roll over and I get thrown out, a pin could come out of one of the hand grenades in my pockets and blow me up. Even if I survived such a wreck, I would again be captured by the Germans. And I prayed that none of this would happen.... and the good Lord heard me.
We made it through the gauntlet to Manderfeld. At least the truck I was in did. When I climbed out of the truck it was dusk. I asked Rigdon and Hallberg if they were all right and they said that they were. I then looked at the truck we were riding in and the number of bullet holes in it made it took like Swiss cheese. I told the driver that he did "one hell of a great job" and thanked him for saving our lives. Once again I escaped being killed, wounded or captured by the Germans. I hurriedly looked for the Cavalry Captain but could not locate him anywhere. I never learned whether the other vehicles in the second wave made the gauntlet or not.
The three of us immediately went to the First Aid station to look for Larry Loudon, Lt. Matson and the others. We did a fast search but could not find any of them among the other injured soldiers spread throughout the First Aid building. As I was standing near a doorway of one of the rooms a stretcher was carried by me with a soldier laying on his back with glassy looking eyes. He looked at me and grabbed my hand as he passed by and mumbled something I did not understand. He seemed to be delirious and perhaps in shell shock. I will never forget the look on his face.
At this point the three of us had no leadership except ourselves. Manderfeld was a repeat performance of Weckerath because we soon learned that the Germans were not closing in on the village. We were again about to be trapped. Hallberg and Rigdon asked me, "What are we going to do?" I said that I was leaving because I wasn't about to get captured again and I was willing to take my chances. They wanted to know where I was going and I pointed toward what I thought was the American Lines and said "That way!"
Not knowing which direction was west and in order to head toward the American lines, I told Hallberg and Rigdon that I would try to get a compass and they could come with me if they wanted to or they could stay with the Cavalry group.. They said they would stay with me.
I then walked over to a Cavalry Officer and told him what happed to us and we wanted to get back to our unit but needed a compass. I asked him if he had one that "I could borrow!" Fortunately he had one and gave it to me. He smiled and said, "Good luck, soldier"!
The elapsed time now put us in darkness. The time must have been somewhere around 1730 hours. I checked the compass for the direction of west and knew that the American lines where over there somewhere. Under overcast skies with no moon that night and no sun the next day, the only thing we could possibly relay on would be the use of a compass.
We left the protection of the village and began to walk knowing that Manderfeld was being surrounded. The possibility of being killed or captured again was very real. We had several options, either we could have remained in the village of Manderfeld where we could have been wounded, killed or captured. Another option would have been to try again to escape with one of the Cavalry units running a gauntlet and the other option was to take our own chances. I liked the option where I could be in control of my own destiny. As we walked very slowly and quietly westward through the snow I then became aware that my feet were totally numb from the ice water that entered my combat boots when I fell in the creek that morning.
We crouched low, whispered when necessary but mostly creeped in dead silence for fear of being seen or heard by the enemy soldiers. I kept a constant check on the compass so we would not veer off our course. We knew we were in German occupied territory and also knew that we had to eventually catch up to the German front lines and cross over into the American front lines without being captured by the Germans or possibly killed by either side as we entered the American front lines. We were also concerned about land mines that may have been planted earlier by the Germans in their retreat several months earlier and could be covered with snow. We felt sure that the Germans had advanced westward far beyond our location but how far and how we will manage to get through the German front lines was all rather mysterious and frightening.
That first night the three of us were cold, hungry, nervous, confused, wet and tired, but we kept walking. We knew we had to keep walking carefully over as much ground as we could . We followed tree lines, hedge rows, crossed open fields but always headed for the low lying areas to keep from being detected. The weather was cold that night and the wind was especially penetrating. The sky was black but with the white snow on the ground gave us the necessary light for us to see just where we were walking and where we were headed.
During the night the sky lit up periodically with colored flares, mostly amber. If they were anywhere near us, we just laid low until the flares burned themselves out. Then we would push on again. We kept a sharp eye and ear for enemy troop movement.
Occasionally we would see troop movement and mechanized equipment not too far away and we would lie low until we were reasonably sure it was safe to move on again. We knew that if we could see them against the white snow background, they could also see us.
Shells screamed over our heads and fell throughout the night. None fell that close to cause us to dive for cover. However, the deafening noise of the "screaming meemies" and other artillery (cannons, mortars, etc.) kept us alert. During the night we got our first sight of the German V-1 and V-2 rockets (buzz bombs). Although I read about the rockets, it was frightening because I had never heard or seen one before. The noise of one of those rockets was deafening. The roar of its jet engine left a white fire trail behind it as it soared upward and then disappeared behind the low hanging clouds headed toward a target behind the American lines. When the engine cut out then shortly after that you heard the explosion of the rocket on impact. We also saw German searchlights in the distance. First they bounced off the low hanging clouds and then they were directed toward the battle lines.
I don't know how far we traveled that night but progress was quite slow and we kept heading west. We had no map and no watch. Time and direction meant nothing to us at this point. This entire day, December 16, 1944 had to be the worst day of my entire life, but also was the most fortunate day of my life. In less than 24 hours we were ambushed in crossfire, captured, taken prisoner, shelled, escaped, shelled, surrounded, shelled, escaped through crossfire, surrounded again, and escaped again. We were now cold, wet, hungry, tired, nervous.... but also very much alive and most thankful to God for that!
Sometime during the wee hours of the morning on December 17, a fine rain started and then turned to sleet. Then the fog began to get thicker. Just before dawn broke we came upon a small village that could offer us some protection from the elements and to give us a chance to rest. We found a barn that had a hay mow. We climbed the ladder into the loft to hide and get a little rest and a chance to get out of the cold. The hay offered some warmth. I would learn later that the village was named Eimerescheid.
Over thirty hours had passed without sleep and we weren't even sleepy. It is amazing as to what nerves can do for the body. We were hungry but food did not even sound good at the moment. All we wanted to do was to get the "hell out of there" and get back to our artillery battery.
While resting in the barn, a German patrol passed by and looked inside, but fortunately kept right on going. Another clue that we were still in German territory. After our short rest we decided to push on and take our chances because we knew that the longer we stayed in hiding, the more ground we would have to cover to get back to the American side since the German army was advancing westward.
While inside the barn we discovered that Rigdon was wounded and didn't know it. He complained of his neck hurting. I looked at his neck and could see a burned red streak along the side of his neck. A closer look revealed that his uniform shirt and coat was torn. Hallberg and I could then see where a bullet had grazed his neck when going though his clothes. Apparently it was the same bullet that put a hole in the drivers side of the windshield of the weapons carrier that Rigdon was driving. This discovery now verified that Hallberg and I were the only two out of the group of eleven who were ambushed on the morning of Decvember16 were neither wounded or killed.
For the next several days our progress was slow but deliberate. Our travels took us past destroyed American vehicles and equipment as well as Germans. We also passed dead German and American soldiers who were now frozen. On the second day I had picked up a Thompson sub-machine gun from an American Sergeant that had been killed. I also took extra clips of ammunition from the Sergeants ammunition belt. In addition to my hand grenades I had in my pockets, I felt much better with some kind of weapons for self protection in case we ran into a German patrol and had to fight it out.
The further the three of us traveled west the increased number of dead soldiers and destroyed weapons and vehicles we saw. What a horrible way to die. Grotesque forms, the white snow was red with human blood and in some cases littered with body parts. Many of the dead still had their eyes open. I thought to myself, "My God, what can they possibly want to see, even after death!" There was no way either the German army or the American army had time to pick up the dead. The ravages of war during the offensive was one of survival for both sides. The dead would have to be picked up later. Fortunately the cold weather would preserve the bodies. Later I would see where they had been picked up, tagged, and stacked on trucks like cord wood to be taken to their final resting place.
Throughout each night we continued to hear the artillery and see the V-2 rockets traveling overhead. The yellow white and red flares also continued throughout the night. With still no sleep we were quite weary but felt that we might just be getting closer to the American front lines. One can tell by the sound of the exchange of gunfire as to its location. Just before dawn a yellowish flare came floating down about 50 yards in front of us. There to our delight we could see activity and what looked like might be an American tank in the glimmer of the light. As soon as the fare went out we decided that we must make a break for the tank, but we had to be careful and make sure the tank was American. Also, we needed to be cautious so the American soldiers would not mistake us for German soldiers in the dim light and shoot us because it was a well known fact that English speaking Germans during the early days of the German counter-offensive would infiltrate the American lines and add confusion and sabotage behind the front lines. The three of us led a charmed life so far, so why take any unnecessary chances now.
Hallberg, Ridgon and I maneuvered ourselves into the American lines without being detected and were able to mingle with the American soldiers and sought out a Sergeant. We told him who were and what happened to us and he referred us to his Lieutenant where we told him we escaped being prisoners and wanted to know where our the 592nd FA was located. He had no idea but did give us water and something to eat. We kept going from one unit to another hitching rides with whoever would give us a ride and catching forty-winks whenever we could. No one had any idea were the 592nd FA Bn was, let alone where Battery "C" was located.
Perhaps it is hard to understand how three American soldiers can infiltrate through the German front lines and into the American front lines without being killed, wounded, detected or captured. As I look back now, it is even hard for me to understand how we did it. The only explanation I can attribute to our success is the fact that the good Lord gave us the ability to remain reasonably calm, use rationality and remember our army training which helped us use good judgment in making the proper decisions about where to go and what to do. We took no unnecessary chances and we certainly did not try to be heroes. We just wanted to survive and get back alive!
Finally on December 21, after three days of darting around the American front lines we were finally able to find our battery (592/C). It was about noon when we walked into the gun position. The first person we rant into was our Battery Commander, Captain Robert W. Smith. I rarely ever saw him smile, but when he saw us he grinned from ear to ear and welcomed us back. Up until that moment he thought we were either killed, wounded or captured since it was reported to that on December 16 his Forward Observer party had been ambushed on its way to Roth.
The first thing he asked me was if I was wounded. I explained that the blood on me belonged to Larry Loudon. We then briefly told him of our ordeal during the past five days and explained what happened to the other guys in the party after we were ambushed. It didn't take me long to find my barracks bag and put on two pairs of dry socks. My feet were frost bitten but I refused to go to the First Aid station for medical care.
Since my Section Head was captured the morning of December 16 at the Forward Observation post in Roth, Captain Smith gave me his job as "Chief of Detail" and promoted me to Staff Sergeant. Being short two officers since that same date, one was injured at the battery position and the other officer was captured when the Germans overran the Forward Observation post in Roth, Captain Smith told me that I would be an "acting officer" and in that capacity I would have full responsibilities as an officer but without the title. I functioned in this capacity until replacements were received after the Battle of the Bulge ended. I remained with 592/C until the 106th Infantry Division was pulled out of combat on March 16, 1945.
Additional Information about My Military Duty Assignment
The 106th Infantry Division suffered some 8,000 casualties out of a potential of 11,000 men. Casualties are defined as those killed in action, wounded or captured. Most of the casualties occurred during the time period of December 16, 1944 to January 25, 1945 which is considered as the Battle of the Bulge time frame. I went through combat totally unscathed except for a case of trench-foot due to wet combat boots.
The information in this document describes my days overseas. To offer a brief summary as to what happened to me after March 16, 1945, on April 1, 1945 I was transferred to "A" Battery, 589th (105mm light howitzer) Field Artillery Battalion in grade as a S/Sgt to help reorganized the Division so we could return to battle. The 589th was battered very badly by the Germans and lost a lot of men who were wounded, killed or captured.
While a member of "A" Battery, 589the Field Artillery Battalion I received a battlefield commission as a 2nd Lieutenant. My appointment to S/Sgt by Captain Smith and the assignment he gave me as an acting officer led to this appointment as an officer. I was still a 20-year old kid not quite dry behind the ears yet but savvy when it came to combat and artillery. The promotion to 2nd Lieutenant was awarded to me based on my combat experiences as a Corporal, Staff Sergeant and an acting officer while with both the 592nd and 589th artillery battalions.
A Few Personal Items About The Writer
As of this writing I have been writing my autobiography since 1987. I am currently writing Chapter 81 which is all about the year 1991. So far I have typewritten written 2,332 pages and my writings are in the basement of my home sitting on the shelves in three library book cases which contain 44 volumes.
A volume is a 3-ring binder, 2-inches thick, 11 1/2-inches X 11-inches. Between the pages of the written text are items that substantiate many of my writings, such as, newspaper clippings, letters, photographs, small token mementos, war souvenirs, report cards from both grade school and high school, senior prom dance card, etc.. These are the kinds of things that will be interesting to my grandchildren to read when they get older.
The autobiography has turned out to be a family history. After the war I married Mary Lou Staarmann, the girl I became engaged to at Camp Atterbury. We had two sons and now have 5 grandchildren.. I worked for General Motors Corporation for 38-years. I began my career with GM in my hometown of Hamilton, Ohio soon after I returned home from the army in August 1946. I remained in the Inactive Reserves as an artillery officer until April 1, 1953 when I received my honorable discharge.
I was in the personnel business while with the General Motors Corporation throughout my entire career. After several promotions at the plant in Hamilton, Ohio, twenty-one years later I was transferred to Marion, Indiana as the plant's Personnel Director the same capacity as the job I had in Hamilton, Ohio. After thirteen months I was then promoted to the General Administrator of Salaried Personnel for one of GM's largest Divisions with 32 plants across the United States and transferred to the Division's General Offices in Warren, Michigan (north of Detroit, Michigan) where I moved my family for the second time. I was again promoted to Director of Personnel Services for the same Division of GM and finally retired on November 1, 1986 with 40 years of service.
An Ironic Incident That Happened Following My Combat Experience
I had returned to Europe in September 1994 with members of the 106th Infantry Division Association to find the spot where I was ambushed and captured but I was unable to find the spot. However, with the help of Belgian civilians I was able visit the villages of Weckerath and Manderfeld where I broke through the Germans who had the villages surrounded. Ever since then I have continued to correspond with my Belgian friends on a regular basis by letter and e-mail.
On May 8, 1999 I left for Europe and returned to the Ardennes Forrest the site of the Battle of the Bulge, with members of the 106th Infantry Division Association but not on a tour. We traveled together but were on our own for ten days. I rented a car and stayed in a small hotel in Prum, Germany. Many of the 106th veterans stayed in different hotels in the small towns in the Ardennes area. Three of the 9 days that I was with that group were spent in meetings with German WW II veterans of the Battle of the Bulge. These meetings were very interesting. The other days I was on my own to do the things I wanted to do which included visiting my Belgian friends.
While in Germany, on May 18 I was able to visit the exact spot where I was ambushed and captured. My confidence in finding the location was based on a weird incident that happened a couple of years ago. On this visit to that spot I was accompanied by Hans Wijers who is a historian on the Battle of the Bulge and lives in THE NETHERLANDS. I became acquainted with Hans shortly after he visited the German War Archives in Koblenz, Germany and found a picture of an American disabled weapons carrier sitting in a ditch that had markings on its bumpers. He sent the picture to John Kline, Editor of THE CUB magazine for the 106th Infantry Division Association. Mr. Kline then placed the unidentified weapons carrier photograph in the OCT-NOV-DEC 1996 issue of THE CUB magazine asking if any member of the Association could identify the vehicle
I always read THE CUB from cover to cover and when I came to page 12 of that issue and saw the disabled weapons carrier with the markings 592 on the left rear bumper and C-5 on the right rear bumper . I immediately identified it as the vehicle following the jeep I was riding in on the morning of December 16, 1944 when we were ambushed. I then wrote a letter to John Kline and told him my story. He was so excited with my explanation that he called me at home and asked my permission to publish my entire letter in THE CUB magazine in the next edition of the magazine which was the JAN-FEB-MAR 1997 issue of THE CUB. My letter continues to appear in his Website on the Internet at http://www.mm.com/user/jpk
After reading that letter the reader will understand how thrilled I was when I saw that picture. What soldier is able to be in possession of a picture of where he was ambushed during combat that was taken by the "enemy" just a few hours after the incident? This is a very strange thing to happen!
I tell this story about Hans because since the picture of the weapons carrier appeared in THE CUB I have been in communication with Hans by e-mail and telephone. After Hans read my letter about the ambush he called me from The Netherlands and asked for more detailed information about the AMBUSH. I then sent him those chapters from my autobiography which are essentially the same as the paragraphs which appear above but in more detail.
In April 1997 Hans returned to the AMBUSH site with the detailed information I sent to him along with the German photographer's picture of the disabled weapons carrier. Using my detailed writings and the weapons carrier picture, he claims he found the exact spot of the AMBUSH. Something that I was unable to do. He took color photographs of the spot and sent them to me which included pictures of bullets still imbedded in the trees.. After looking at the photographs I really did believe he found the exact spot of the AMBUSH.
Hans advised me that if I should ever return to Germany he wanted to take me to the spot of the AMBUSH. When the opportunity came to return to the Ardennes with the other members of the 106th Division Association I jumped at the chance. I then told Hans that I planned to be in Germany between May 9 and May 19 and asked him if he might be able to meet me one of those days so he and I can travel on the road between Auw and Roth so he can show me the spot. We agreed on the date of May 18.
On that date Hans Wijers came to my hotel and took me to the site. I was truly amazed to see the site once again. He was right on target. I could tell after 55 years, even though the road was widened and the ditches filled in, the terrain where we were ambushed remained the same. It was a thrilling but very emotional episode in my life. I thank Hans Wijers for helping me to maintain a goal I set 55 years ago and now has come to a reality.
My autobiography is full of many stories but this story is so ironic that it bears high visibility.