Honoring A True Notre Dame Legend
Sept. 24, 2006 By Pete LaFleur
When the 1949 Notre Dame football team discussed plans for its annual reunion, thoughts turned to honoring an individual who was instrumental in molding them into one of the most dominant teams in college football history. They focused on a man who embodied the spirit of "Fighting Irish," a man for whom the terms "battle" and "going to war" are more than lightly tossed-around football metaphors.
Today, the 1949 team joins all of Notre Dame in honoring Bob McBride, the oldest living former Notre Dame assistant football coach. McBride - who celebrated his 84th birthday last weekend as Notre Dame was playing Georgia Tech - endured a rollercoaster of life experiences during the 1940s, as his playing career at Notre Dame was interrupted by World War II service that saw him spend four months as a German prisoner of war. He returned for his senior season and was a member of the 1946 national championship team, later serving as an offensive line coach in the final five years of the Frank Leahy era (1949-53).
McBride came to Notre Dame in the fall of 1940, following an all-state senior season as a fullback at Logan (Ohio) High School. He earned monograms in 1941 and '42 (as the starting right guard) but entered military service in the spring of '43, ultimately serving as a machine gun squad leader in the 106th infantry division.
His division quickly shifted to the Belgian front and met the German counter-offensive in the Battle of the Bulge. Almost 7,000 men from the 106th were killed or captured, with McBride taken prisoner on Dec. 21, 1944. While suffering from frozen feet, he was forced to walk 13 days and was placed in two prison camps before a 50-day march during the German retreat. A starvation diet - one-seventh of a loaf of bread per day - resulted in McBride's weight dropping from 212 to 90 pounds, before he was liberated 122 days into his imprisonment (ending 39 months of service). He received three battle stars, a purple heart and the presidential unit citation.
McBride used a summer construction job to build up his body before returning to the Irish in the fall of 1946. Relegated to a reserve role, he was an inspiration for his teammates, who rallied to have him serve as captain for the huge midseason game with Army. That historic clash ended in a 0-0 tie (avenging major losses to Army the previous two seasons) and Notre Dame went on to claim the national title (8-0-1).
The only practice McBride ever missed was the day his son Patrick was born. McBride and the former Mary Stein had been married shortly before he departed for the war and their family now includes seven children, 28 grandchildren and seven great-grandchildren.
McBride - who received Notre Dame's prestigious Byron Kanaley Award (recognizing exemplary student-athletes/leaders) - compiled a 16-3 record as head coach at Chicago's Mt. Carmel High School before returning to Notre Dame in 1949 as offensive line coach. His skill at breaking down game tape and overall coaching ability made him one of the most valuable members of the program during the final Leahy years.
When Leahy departed in 1953, McBride followed him into a steel alloy business and later became involved with the trucking business in Michigan City. The McBride family then spent 12 years in Savanna, Ga., and 12 more in Tucson, Ariz., before Bob and Mary came full-circle back to South Bend in 2003.
"Working with Frank Leahy was the greatest thrill of my life," says McBride, whose star pupils included the likes of All-America tackles Bob Toneff and Art Hunter.
"Leahy was the best and always did whatever it took to help an individual player be his best - you couldn't help but have his style rub off on your own coaching approach."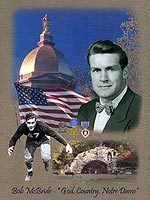 The Notre Dame football class of 1949 honors former Irish assistant football coach Bob McBride for his service to Notre Dame as a player and coach and to his country at this afternoon's game against Penn State. The montage shown here and created by Ken Modak will be presented to McBride this weekend.

http://und.cstv.com/sports/m-footbl/spec-rel/092406aaf.html