June 1, 2004 - MARENGO, Indiana - Of its 400 homes, 27 were destroyed, and 43 others were so damaged that they are uninhabitable. Another 100 homes were struck but suffered less damage, according to the State Emergency Management Agency. About 70 National Guard troops are expected to arrive today, their mission to help with cleanup and traffic control.
---
Forty members of the 1313th Engineering Company and 30 soldiers from the 1438th Truck Company, both out of Camp Atterbury, have been activated, said Lt. Col. Larry Powers, spokesman for the Guard. (By Andy Gammill, IndyStar.com)
---
June 1, 2004 - The Greatest Women: Men may have carried rifles on the front lines, but women across the country did their part as members of the 'Greatest Generation'
Almost 60 years after the end of World War II, many of the surviving members of the "Greatest Generation" are in their 80s. They are the men and women who lived through the Depression, fought the Nazis and will never forget Pearl Harbor.
Some of their memories are fading, but most can still recall details of the war.
There are hundreds of World War II veterans living in Hardin County, each with their own story. Oftentimes, the tales of the men who were on the front lines dominate the memories.
But there were thousands of women who did their part for the war effort. Women like Elizabethtown residents Betty Swope, Jane Davis and Mary Jo Jones.
They were nurses, codebreakers and members of the Navy. They worked from the home front, military posts and consulates overseas.
"There's not too many of us left," Jones said of the World War II veterans and workers.
They shared their stories so their work wouldn't be forgotten. But still, they insist they were only doing their part.
"All this happened 60 years ago," Jones said. "But I have never since then seen the country as united as it was."
At 82, Jane Davis can still fit into the uniform she wore as a 23-year-old Army nurse during World War II.
"Isn't that something?" she said. "I can still wear it."
Davis, then from Toledo, Ohio, was studying to be a nurse during the war years. After graduation from nursing training, she figured joining the military would be the next step.
"I was footloose and fancy free, and I decided I would enlist," she said.
Davis joined the United States Army Nurse Corps toward the end of 1944. She was assigned to Camp Atterbury, Ind. Days at the camp were long as nurses tended to the hundreds of soldiers returning from overseas service.
Many of the men were severely wounded, she said. And while over time it got easier to handle day-to-day operations, Davis said she never could quite get over some of the injuries she tended.
"We always saw some pitiful cases," she said. "At times, I would have to go by myself and shed a few tears. I guess I was too tender-hearted."
While the days could be heart-wrenching, the nights offered some relief, as Davis and her fellow nurses would spend time dancing at the officer's club.
It was one fall evening in 1945 when the nurse felt a tap on her shoulder. "It was a first lieutenant," she said. "And he asked, 'Would you dance with me?' " It was the last dance partner Davis ever took. Upton native H.Y. "Bud" Davis III, a first lieutenant in the Army Air Corps, captured her heart. "Would you believe after that dance neither one of us dated another person?" she said. Soon after, Bud Davis became a captain and the couple married Feb. 16, 1946. The marriage marked the end of Jane Davis' service.
"At that time when nurses married, their time was up," she said. "I was out of the corps within a week." The Davises moved to Elizabethtown, where Jane Davis reunited with a fellow nurse from Camp Atterbury. Mildred Christensen had left the corps around the same time as Davis, and coincidentally had also married a Hardin County native.
The two couples remained close friends, and eventually became family. Davis' son, H.Y. Davis IV, married Christensen's daughter, Becky. Today, Davis' hospital uniform is folded and tucked away in a drawer. She only talks about her wartime service if she's asked, and even then, some of the memories have faded away over time. "It's been so many years," she said. (By ERICA WALSH, News-Enterprize, Hardin, KY )
---
June 1, 2004 - THOMAS M. BARRICK, Saratoga -- Army
On a bitter cold night in December 1944, a group of thirty American soldiers huddled together near the crest of a hill in an open field overlooking the Lienne River Valley in Belgium. They were the battered, bruised, and bloodied remnants of several elements of the 3rd Battalion, 424th Infantry Regiment, 106th Infantry Division. It was the 10th day of the German Army's gigantic all-out offensive in the Ardennes Mountains. History records it as the Battle of the Bulge.
Surrounded, cut off and almost out of ammunition, we had been forced to leave defensive positions we held outside St. Vith. At dark I left our assembly area with 39 men and headed west with only a compass to our next assembly area.
For hours we struggled through knee-deep snow drifts, forest tangles and over the hills and ravines of the Ardennes Mountains. About midnight we staggered to a halt. All were totally exhausted after 10 days of little sleep, frequent change of positions, almost constant shelling and less than one meal a day. Most of the trek had been in silence except for the gasping for icy air that scorched our throats and lungs. But now there were grumbles about quitting, giving up, surrendering!?
About that time my buddy next to me said, ``What are you mumbling about, Sgt. Mac?''
Suddenly I realized I had been talking to myself out loud. ``Oh, I'm just repeating some lines from a poem my Dad taught me as a boy . . . `if you can force your heart and nerve and sinew to serve your turn long after they are done and so hold on when there is nothing in you except the will which says hold on.' There's more to it, but that is what I was thinking.''
``What's the rest of it,'' he and a couple others asked.
``The poem is `If' by Rudyard Kipling. Remembering it has helped me get through a lot of `stuff' in the army.''
I recited from memory the entire poem.
There was total silence. Then a sob of resignation down the line. Slowly, I struggled to my feet using my rifle as a cane, thankful that I had not flopped down on my belly or back because I would never have been able to get up.
With as much resolve as I could muster, I announced, ``I'm going on. You can follow me, or stay and give up. It's up to you.''
Thirteen of us staggered on slipping, sliding and falling down the mountain to the valley floor, too spent to talk or even curse. Upon reaching a friendly outpost we were unable to respond to the password and came under heavy mortar fire. Five of us rushed past the area and made it to a small road. Where the strength came from I'll never know. There we met a litter team lead by a chaplain, who suspected us of being Germans, and ordered us disarmed and escorted to the assembly area.
The officer in charge said, ``I know Sgt. Barrick. He worked for me in the states.'' ``Glad to see you made it, sergeant. Take your men and get some dry clothes, food and rest. You all look like you could stand some.'' Then he added wryly, ``Merry Christmas.''
Was it really Christmas? (Mercury News)
---
June 3, 2004 -

Drafted - The year 1943 was a lifetime ago for Bernie Miller and Charles Lucas, but it changed both their lives. It was year they were drafted into the Army to serve active duty in World War II.

Miller was 19 and living and working on his father's farm in Rhinelander, Wis. when he was drafted. He became a staff sergeant with the Charlie Company. Miller served just shy of three years in the 1st Battalion, 335th Infantry, 84th Infantry Division.

Miller's older brother, now 88, was drafted into the Army in 1941. Though the brothers were in Germany at the same time and just 30 miles apart, they didn't see each other until 1945.

"During the war, they wouldn't let me off the line to go see him," Miller said.

Charles Lucas had only been attending Indiana State University for a year when he was drafted. He said it didn't come as much of a shock because many of his friends had been shipping out around the same time.

"I was concerned about messing up my education," said Charles Lucas, who was studying music and drama.

Charles Lucas, who was in the 106th Infantry Division, served as a communications sergeant during the war. At the start of the Battle of the Bulge, he and fellow soldiers were captured by German forces and were prisoners of war from December 1944 to April 1945.

"The whole division was either annihilated or taken P.O.W.," he said. Miller said around 60 of 130 men in his company were killed in combat. "I lost a lot of good friends."

After the war, Miller attended the University of Wisconsin-Madison for two years. He worked in the agricultural experiment station testing out different seeds and fertilizers. However, Miller said he didn't care too much for farming and went to work in the construction business, from which he has been retired 18 years.

Prisoner of war

During his time in the German P.O.W. camp, Charles Lucas lost 85 pounds on a diet that consisted of crusts of bread with synthetic jelly, soup and half a canteen of synthetic tea. "Once in a great while we had horse meat," he said.

The starved prisoners spent hours dreaming up recipes, vowing to open a restaurant once they got back to the states. To pass the time, they played cards. "It was the only thing we could do," Charles Lucas said. "We never got Red Cross packages," he added. The Germans tried to make the soldiers work, but they were physically incapable of doing much of anything. At night, prisoners slept two to three to a bed under half a blanket.

Toward the end of the war, American troops rescued the prisoners from the German camp and flew them to Camp Lucky Strike in France. "Everybody was very happy," Charles Lucas said.

Charles Lucas was then taken by ship to Miami, where he stayed in a hospital for three weeks to recover. Once home in Mount Carmel, he didn't resume college. Instead, Charles Lucas became a department post signal officer and director of maintenance at Fort Sheridan.

(Gurnee Review)

June 4, 2004 - Professor recounts WWII service
---
JENNIFER DRADER/daily bruin

Dr. James Yamazaki attended UCLA as an undergraduate and served in World War II. He teaches at the UCLA David Geffen School of Medicine. People around the country will honor veterans like Yamazaki on Sunday in commemoration of the 60th anniversary of D-Day.

---
By Dmitri Pikman
DAILY BRUIN REPORTER
dpikman@media.ucla.edu

James Yamazaki has a lot of stories to tell.

Yamazaki, a professor at the UCLA David Geffen School of Medicine, served as a combat surgeon in Europe during World War II. He was captured by German forces and was a prisoner until the end of the war. He studied the effects of the atomic bomb on victims after the war. And he is currently working on a movie about victims of the atomic bomb.

Many stories of WWII veterans like Yamazaki will be remembered Sunday: June 6 marks the 60th anniversary of D-Day, when Allied forces invaded Normandy, France, in one of the first significant moves to end Adolf Hitler's Nazi regime in Europe.

Though this day is historically significant for many people, for Yamazaki it has a personal connection, as well.

Yamazaki did not take part in the D-Day invasion, but he was sent to Europe shortly afterward, arriving in November 1944 as part of a troop sent to relieve the original D-Day fighters.

He served as the battalion surgeon in the 106th Infantry Division, a non-Asian corps. This was very rare during WWII because most Asian soldiers were segregated in Asian-only troops.

"They needed doctors all right, and I had just finished medical school," Yamazaki said. Prior to attending medical school at Marquette University in Wisconsin, Yamazaki was an undergraduate pre-medicine student at UCLA.

The war was not on the forefront of Yamazaki's mind during his UCLA years, when he was a self-proclaimed "geek." "In 1937, the year I came to UCLA, I was taking a political science course with Professor Steiner, and he told us not to worry about the war," Yamazaki said.

The next few years, though, saw a souring of relations between Japan and the United States. After the Japanese attack on Pearl Harbor on Dec. 7, 1941, many Japanese Americans were thrown into internment camps by the U.S. government, which feared Japanese Americans would prove disloyal.

Prompted by concerns over his family's safety, Yamazaki signed up for the Army right after enrolling in medical school, where he was one of only two Asians in his class. "I signed up so that I would have something to show where my loyalties were," Yamazaki said. Immediately after completing a medical internship in St. Louis, Yamazaki was drafted, and a few months later he was on his way to Europe.

Though arriving five months after the D-Day invasion, Yamazaki's division took part in some of the heaviest fighting in the area. "Within a week of us arriving there we were already involved in battle, and it turned out to be the very biggest battle of the allied forces during World War II," Yamazaki said.

This battle, known as the Battle of the Bulge or the Ardennes Offensive, lasted from December 16, 1944 to January 28, 1945. It was the largest land battle the United States fought during WWII. More than 1 million men took part in the fighting, including some 600,000 Germans, 500,000 Americans and 55,000 British soldiers. The United States lost over 19,000 soldiers during the battle, making it one of the heaviest death tolls for the country.

"Our outfit of 10,000 was on the front, and within the first five days we had a casualty (count) of 7,000," Yamazaki said. "We really got clobbered."

Though he was not wounded, Yamazaki and many members of his division were captured by German troops four days after the battle began. Yamazaki remained in captivity until April 1945. "After we were captured, we were under the bombardment of our own planes, surviving a couple of bombing raids," Yamazaki said. Yamazaki and his fellow prisoners journeyed more than 800 miles through Germany, getting moved to various prisoner camps.

In spring of 1945, while he was being held prisoner in a camp in Hammelburg, Germany, Yamazaki and many of his comrades were almost freed by U.S. forces. "We thought we were liberated, but they didn't bring enough men to free 5,000 prisoners, so most of the men had to return to camp," Yamazaki said. He decided to try his chances at finding his own way back to friendly territory, joining the crew of an Allied forces tank.

Yamazaki's second attempt to escape, though, again proved unsuccessful. "It turned out that the prison camp was located right next to a training camp for German soldiers," he said with a touch of irony in his voice. "A couple of days later, we were recaptured."

Yamazaki was transferred to another prison camp in Mousseberg, Germany. "It was a huge camp, with (about) 50,000 prisoners from everywhere, Australia, Europe, all kinds of places. I guess the Germans had to put them somewhere," Yamazaki said. In April, with the end of the war looming, Allied forces invaded the camp and liberated the prisoners, Yamazaki among them.

After his return to the United States, Yamazaki was recruited by the National Academy of Sciences to travel to Japan in order to study the effect of the atomic bomb on Japanese children. He stayed in Nagasaki, the second city on which the United States dropped an atomic bomb, until 1950. Yamazaki eventually returned to the United States to become a part of the faculty at the UCLA medical school, a lucky break according to him. "Just before I went to Japan I visited a UCLA professor, Dr. Stafford Warren, who was in Japan right after the bombing," Yamazaki said.

Though Yamazaki didn't know so at the time, Warren was the founding dean of the newly established UCLA medical school, and, after a brief correspondence, Yamazaki joined the school's staff. He has remained at the school since then and been involved in a variety of projects. Most recently he helped to establish an undergraduate course on nuclear weapons called "Nuclear Weapons, a Critical Decision."

He had also contributed to a book on Sept. 11, 2001, recently released by the Asian American Studies Center. "He has been a great friend to the center here for many years while also being greatly active in the Japanese American community," said Mary Kao, publications coordinator at the study center. Yamazaki is also currently involved in a documentary film project called "Children of the Atomic Bomb."

"He really wants to push the unknown story about Japanese Americans during War World II," said Diane Tanaka, associate director at the "Go for Broke" Educational Foundation, which collects oral histories from World War II veterans. Yamazaki has contributed his own experiences to the more than 460 interviews collected at the foundation.

Even though he will not be participating in any D-Day commemoration Sunday, Yamazaki has strong memories tied to the war. Some of these memories of the war years he remembers fondly, such as when he met his wife while on the way to a military training school in Philadelphia. Others memories, such as those of lost friends, are much more painful. "One of my very good friends at the time was Hitoshi Yonemura, another UCLA student. I knew him really well," Yamazaki said.

"When I was doing my internship in 1944 at City Hospital in Saint Louis, Hitoshi dropped by to say good-bye before shipping out to Italy." Yonemura was killed during the Po Valley campaign in Italy. "We used to study together. We had some of the same classes," Yamazaki said. "And I never saw him again after this last visit." (Daily Brun, UCLA)
June 11, 2004 - President Ronald Wilson Reagan Dies
Past and present world leaders were among some 4,000 people packing Washington's National Cathedral on Friday for the funeral of former president Ronald Reagan. The New York Stock Exchange and government offices are closed for what is an official national day of mourning. Millions were expected to tune in for the live television broadcast of the national funeral, which began at around 1130 EDT (1530 GMT).
Reagan's coffin was brought from the US Capitol where it lay in state since Wednesday evening.
President George W Bush, his father and former president George Bush, former prime ministers Margaret Thatcher of Britain and Brian Mulroney of Canada all gave eulogies. Other dignitaries included Britain's Prince Charles representing his mother, Queen Elizabeth II, Prime Minister Tony Blair, German Chancellor Gerhard Schroeder, South African President Thabo Mbeki and Afghan President Hamid Karzai.
All four surviving former US presidents - Gerald Ford, Jimmy Carter, Bill Clinton and George Bush Sr - attended, as did the last Soviet leader, Mikhail Gorbachev.
The service was conducted by former US Senator Jack Danforth, an ordained Episcopal minister and the current nominee to become US ambassador to the United Nations. Readings were given by Rabbi Harold Kushner and Sandra Day O'Connor, who became the first woman to serve on the US Supreme Court after she was nominated by President Reagan in 1981.
Tight security
Reagan had been planning his own funeral arrangements since 1981, just one year after taking office, said family spokeswoman Joanne Drake. The chosen hymns included The Battle Hymn of the Republic, Beethoven's Ode to Joy and Amazing Grace.
1430 GMT: Coffin leaves Washington's US Capitol

1530: Funeral service at Washington National Cathedral

1815: Departure ceremony at Andrews Air Force base

2345: Aircraft arrives in California

0115 Saturday: Private internment service
The cathedral's Bourdon Bell ended the service by tolling 40 times, to recognize Reagan as the 40th US president. Security for the event - as for the lying in state in both California and Washington - has been extremely tight.
Following the national funeral, the president's body is returning to California.
After a ceremony at Andrews Air Force base, an aircraft carrying the coffin departed at 1445 (1845GMT) and was due to arrive in California five hours later.
The coffin will then be taken by motorcade to the Ronald Reagan Presidential Library in Simi Valley, north of Los Angeles, at 1800 local time (0100GMT on Saturday).
There will be a private sunset ceremony on a hill overlooking the Pacific Ocean, attended by some 700 family and friends, including Hollywood actors Charlton Heston and Kirk Douglas.
The iconic former president, credited with helping to end the Cold War and change US political culture for a generation, will be buried at 1930 (0230GMT on Saturday).
State funeral
Friday's funeral and burial cap a week of ceremonies that began on Monday with a private ceremony for his family at the Reagan library.
After the service, the former president's body lay in a closed casket in the library's main lobby for 30 hours of public visitation.
Ronald Wilson Reagan was president for eight years
The coffin was flown from California to Washington DC on Wednesday.
The body lay in state throughout Thursday in the Capitol Rotunda, on a catafalque built in 1865 for Abraham Lincoln's coffin.
The state funeral was the first since that of former President Lyndon Johnson in 1973.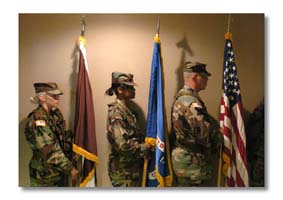 June 12, 2004 - The color guard waits at the back of the Truman Presidential Museum and Library auditorium for the 139th Medical Group deployment ceremony to begin. The men left for Camp Atterbury, Ind., Friday following a ceremony at the Truman Library. The unit will provide medical assistance in Kosovo as part of Operation Enduring Freedom.
June 14, 2004 - Atterbury teams up with Navy

Camp Atterbury and the Crane Division of the Naval Surface Warfare Center both have been in Indiana since the 1940s, when they were constructed to support World War II. But the two military installations have had little to do with each other.

Until now.

Officials from Crane would like to use Camp Atterbury's ranges to test technology: pyrotechnics, ammunition, unmanned aerial vehicles, devices that jam enemy radar systems, power systems and laser targeting. Soldiers training at Atterbury could test night vision or detection equipment and tell Crane officials whether the products are effective and user-friendly.

Thirteen scientists and officials from Crane visited Camp Atterbury last week. They met the camp's commanders and directors, listened to a presentation about Atterbury's infrastructure and facilities, ate lunch in the mess hall and then took a van and helicopter tour to view the ranges and upcoming construction.

Crane is in Martin County, about 60 miles southwest of Camp Atterbury. Overseen by the Department of the Navy, Crane employs almost 4,000 people, mostly civilian scientists, engineers and technicians.

They develop, improve and test technology for the military, including weapons, communications, defensive and detection systems. Their technology helps build supplies for all branches of the military, such as night-vision goggles, devices to locate land mines, radar systems and detectors for radioactive, chemical or biological agents.

Camp Atterbury's primary job is to get soldiers ready for active military duty, which includes making sure they are proficient with the technology available to the Army.

"We can create a linkage between Crane's technology and our range and infrastructure in a mutually supportive agreement," said Lt. Col. Kenneth Newlin, Camp Atterbury's commander. "It increases our customer base, and for Crane, it's the proximity and economics. They can demonstrate and test right in their back yard."

With the formal agreement, signed March 19, Crane will become one of Camp Atterbury's customers. These are groups other than the Indiana National Guard that use the camp. For example, the Federal Emergency Management Agency maintains a course to train search-and-rescue dogs at Camp Atterbury. Active military units and civilian police agencies also use the camp. Some of the visitors had little knowledge of Camp Atterbury's capabilities.

During the tour, Sue Webster, a public-affairs officer at Crane, urged technical managers to look for opportunities to use Camp Atterbury.

"Everything they do here is very relevant to what we do," said Carl Crowe, director of the Communication Division at Crane. "I had no idea all this was here. I knew about Camp Atterbury, what they did with the Reserves, but not this."

Ken Poteet, Marine Corps Ammunition Branch at Crane, said he would like to use Camp Atterbury's range to test handheld rockets. The alternative testing sites are at military bases in the West, so coming to Atterbury saves travel costs, he said.

"We'd be able to test closer to home and get more people involved. Now, I can only send one person (to testing). It's a save-save-save for everybody," Poteet said.

The agreement also is beneficial to Camp Atterbury. Crane sits on about 100 square miles of wooded property, and National Guard soldiers would be able to use it for training in topography and road networks and driver training.

Crane also will enhance the camp's ranges by helping with any efforts to upgrade equipment or range capabilities. Camp Atterbury is building an $8 million battle-simulation center, which may use some of the same technology Crane creates.

Crane, the second-largest employer in southwestern Indiana, is at risk of being closed through the Defense Base Closure and Realignment Act of 1990, which requires the Department of Defense to consolidate or phase out a certain number of military installations every few years.

A group of business people from the area, the Southern Indiana Business Alliance, joined to lobby for Crane, which is the nation's third-largest Navy base.

Indiana lost six bases and more than 8,000 jobs in the 1988, 1991 and 1995 closures, making Crane the state's only active military base. Camp Atterbury is not considered an active military base since it is operated by the state to train reservists.

Newlin said Crane and Atterbury joining forces would be good for Indiana and could help Crane survive the cut.

"If we can keep them here, the economic impact would be good for the state," he said. "They can become more efficient, which will help them survive. If they save money, that's a feather in their cap." (By AMY MAY, Daily Journal staff writer)
---
June 14, 2004 - New Hampshire Army National Guard Maj. Ralph Huber, 38, will deploy for Afghanistan with 16 other N.H. Army National Guard soldiers this month, for an 18-month mission to help train the Afghan National Army.
The soldiers, who hail from different units within the N.H. Army National Guard, will become members of Coalition Joint Task Force Phoenix. National Guard members from Indiana and Pennsylvania, U.S. Marine Corps members and members of the Canadian Army will join them on the task force, Huber said from the living room of his home last week.
He will serve as the team chief for the task force's combat-service support team. One Guardsman not on Huber's team will serve in an infantry team, he added. "We're an embedded training team. We are going to be advisers and mentors to our counterparts," Huber said. "Our job is to advise and help them build their army."
The Guard members were selected for duty based on the skills they will bring to the mission. They will train Afghan National Army members in a host of military specialties, including ordinance, medical, transportation, maintenance, supply personnel and motor-pool operations, according to information from the N.H. Army National Guard.
Huber and his fellow soldiers won't be the only New Hampshire Army National Guardsmen in the country. Some 50 soldiers with the 210th Engineer Detachment, based in Peterborough, have been in Afghanistan since March, providing engineering and construction support for Operation Enduring Freedom. Also, a handful of members from Company C, 3rd of the 172nd Infantry Regiment (Mountain), based in Manchester, have been training members of the Afghan National Army since last September.
Before heading to Afghanistan, the N.H. Guardsmen will complete about a month of stateside training at Camp Atterbury in Edinburgh, Ind. (Portsmouth Herald, Portsmouth, NH)
---
June 15, 2004 - Army gets new combat uniform

By Sgt. 1st Class Marcia Triggs
WASHINGTON (Army News Service, June 14, 2004) - The Army will be fielding a new combat uniform designed by NCOs and tested by Stryker Brigade Soldiers in Iraq since October.

On the Army's 229th birthday, senior leadership introduced the Army Combat Uniform during a Pentagon cake-cutting ceremony. Soldiers were on display, suited-up in the wrinkle-free uniform with a digitized camouflage pattern.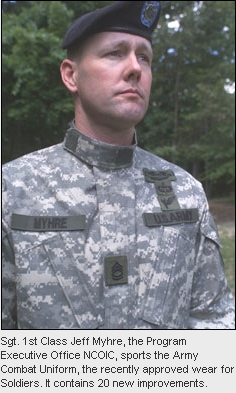 Three different versions of the ACU have been developed, and more than 10,000 uniforms have been produced and dragged through the sand in Iraq and at Army training centers. Even more are on American production lines to be issued by April 2005 to Soldiers in deploying units. Fielding to the total Army should be complete by December 2007, said officials from the Program Executive Office, known as PEO Soldier.

There were 20 changes made to the uniform, to include removing the color black and adapting the digital print from the Marine Corps uniform to meet the needs of the Army, said Sgt. 1st Class Jeff Myhre, the Clothing and Individual Equipment noncommissioned officer in charge.
Black is no longer useful on the uniform because it is not a color commonly found in nature. The drawback to black is that its color immediately catches the eye, he added.

"The color scheme in the ACU capitalizes on the environments that we operate in," Myhre said. "The current colors on the ACU are green-woodland, grey-urban environments and sand brown-desert. The pattern is not a 100-percent solution in every environment, but a good solution across the board."

"This isn't about a cosmetic redesign of the uniform," said Col. John Norwood, the project manager for Clothing and Individual Equipment. "It's a functionality change of the uniform that will improve the ability of Soldiers to execute their combat mission."

Every change was made for a reason. The bottom pockets on the jacket were removed and placed on the shoulder sleeves so Soldiers can have access to them while wearing body armor. The pockets were also tilted forward so that they are easily accessible. Buttons were replaced with zippers that open from the top and bottom to provide comfort while wearing armor.

Patches and tabs are affixed to the uniform with Velcro to give the wearer more flexibility and to save the Soldier money, Myhre said. Soldiers can take the name-tapes and patches off their uniforms before laundering, which will add to the lifecycle of the patches. Also the cost to get patches sewn on will be eliminated, he added.

The ACU will consist of a jacket, trousers, moisture wicking t-shirt and the brown combat boots. It will replace both versions of the BDU and the desert camouflage uniform. The black beret will be the normal headgear for the ACU, but there is a matching patrol cap to be worn at the commander's discretion.

At $88 per uniform, about $30 more than the BDU, Soldiers will eventually reap gains in money and time by not having to take uniforms to the cleaners or shine boots.

The life of the ACU began in January 2003 when PEO Soldier teamed with Myhre, Master Sgt. Alex Samoba and Staff Sgt. Matt Goodine - from the 1st Stryker Brigade, Fort Lewis, Wash.

The team looked at a number of uniforms and took the best part of each uniform and combined it into one. They built their first prototype and delivered 25 uniforms to Stryker squads at the National Training Center. After listening to their comments, the team went back to the lab and created prototype two.

Twenty-one uniforms were then delivered to Stryker Soldiers at the Joint Training and Readiness Center, Fort Polk, La.

"We watched them as they entered and cleared rooms, as they carried their rucksack and all of the things they had to be able to do in the uniform, and then we came up with prototype three," Myhre said.

Two issues of the third version were given to the Stryker Soldiers deploying to Iraq. Three months ago, Myhre was among a team who visited Iraq to get more feedback from Soldiers.

"We would talk to Soldiers right after they had completed a mission while the benefits of the uniform were still fresh in their minds. We wanted to know how did the uniform help the mission."

Sgt. Maj. of the Army Kenneth Preston is one of the ACU's biggest supporters. He said major command sergeants major had a chance to see the uniform and give advice toward the final version.

"We have not made a major change to our uniforms since the BDUs (battle dress uniforms) were introduced in the early 1980s," Preston said. "This new uniform performs well in multiple environments. Its new pockets and color designs are a result of feedback from Soldiers in combat. Every modification made on the uniform was designed with a specific purpose and not just for the sake of change."

Uniform changes include:
1. Mandarin collar that can be worn up or down
2. Rank insignia centered on the front of the blouse
3. Velcro for wearing unit patch, skill tabs and recognition devices
4. Zippered front closure
5. Elbow pouch for internal elbow pad inserts
6. Knee pouch for internal knee pad inserts
7. Draw string leg cuff
8. Tilted chest pockets with Velcro closure
9. Three-slot pen pocket on bottom of sleeve
10. Velcro sleeve cuff closure
11. Shoulder pockets with Velcro
12. Forward tilted cargo pockets
13. Integrated blouse bellows for increased upper body mobility
14. Integrated Friend or Foe Identification Square on both left and right shoulder pocket flap.
15. Bellowed calf storage pocket on left and right leg
16. Moisture-wicking desert tan t-shirt
17. Patrol Cap with double thick bill and internal pocket
18. Improved hot-weather desert boot or temperate-weather desert boot
19. Two-inch, black nylon web belt
20. Moisture-wicking socks
---
June 18, 2004 - SPC Griesemer described how her overseas military assignment occurred this year, writing:
"On Jan. 2, 2004 I was activated on Title 32 orders to report to Camp Atterbury, Ind. for training. I became part of HHC 38TH ID Task Force Eagle SFOR15 as part of Peacekeepers Mission for a one year rotation with the possibility of being home by Christmas.
At Camp Atterbury my training consisted of TSIRT training for the area we were going to, recognition of different types of mines and dangers, classroom on Bosnian customs, as well as physical exam and medical information updating.
On Feb. 2, 2004 I went on Title 10 orders,as training continued at Camp Atterbury until Feb 17, 2004 in which I was then headed to Hohnfels, Germany where training continued with MRE(Mission Rehearsal Exercise) where the instructors gave more hands on to aquaint us with our mission here as what to look for.
While there we learned how most of the times we take things for granted. We slept in quarters with no bathroom facilities, that for some would walk a block for the showers and restrooms. We adjusted even when there were times we had to walk the distance to get there in the snow. One thing you made sure was to have all your bath items with you.
Once my training was over in Germany, March 16, I was headed to Bosnia-Herzgovina, a country that I had read and heard about on the news of the wars passed. I've learned how our presence has helped make a difference to the people and it's a good feeling.
I work as part of G6 in communications (my family thinks it's a good job cause I like to talk), as well as administrative functions, and VTC (Video Teleconferenceing Communications) which offers the soldiers the opportunity to set up a time to speak and see their loved ones back home. As soldiers of today with Emails, Phone Cards, and of course letters we stay in touch much more easier.
I have roommates who are young enough to be my daughters, but as soldiers, away from home going through much of the same, we look out for each other, because we are a family. Even though it is a big world, it's small when you find out that being miles from home there are those here serving with you from your hometown. We get to talk of home things and realize who we know.
To help us get through we have the USO and MWR (Morale, Welfare and Recreation) that help plan activities that help keep us from getting homesick, but still concentrate on the mission at hand.
I have had the opportunity to go to a school and visit the children as well as take them some well-appreciated supplies. Here the children go to school in shifts, but seem to be eager to learn. We as well get the opportunity to take some language classes that helps us to talk with the local people that work here at Eagle Base. I also work with the Chaplain and help with part of the service in Choir as well as sing specials.
I'm proud to be an American and serve my Country as those who have before me."
---
June 21, 2004 - The burden of their duty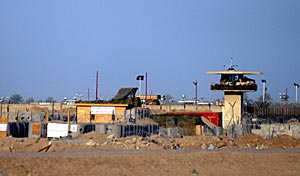 The scandal surrounding pictures of soldiers from other units abusing detainees at Abu Ghraib, above, rocked the 229th's return to Virginia Beach earlier this year. AP FILE.



By KATE WILTROUT, The Virginian-Pilot
© June 21, 2004

By the time the 229th Military Police Company arrived at Abu Ghraib last August, looters had stripped everything of value out of Saddam Hussein's notorious prison, from copper pipes to light fixtures. Medical waste littered the courtyard where the Virginia Beach-based National Guard unit was to base its operations. There was no electricity, no running water, no phone . Soldiers slept outdoors, where it was cooler – until mortars started dropping.
No mess hall meant field rations, and the company had a 12-day stretch of omelets with cheese for dinner – the extended shelf-life version, not the made-to-order kind. Their work, guarding detainees held in tent compounds outside the cellblocks, could be as bleak as the living conditions.
"Essentially, you just sit there and watch the people all day long," said Capt. Jim Jones , commander of the 120 or so men and women in the 229th.
When the routine deviated, it usually wasn't for the better. The citizen-soldiers came under fire, literally, from both sides. Insurgents attacked from outside prison walls; detainees behind the razor wire made crude weapons and hurled rocks. Even coming home was hard. Called up in February 2003 for a 12-month deployment, most of the unit was extended through April 2004.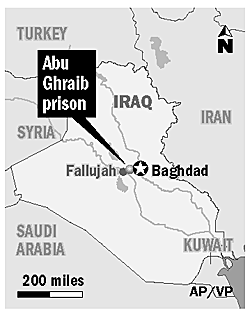 Scandal arrived soon after the company's return from Abu Ghraib: pictures of soldiers from other units abusing detainees inside the prison. Investigations and nationally televised hearings followed.
The soldiers of the 229th were not implicated in any wrongdoing. They worked primarily in the guard towers and around the perimeter of Camp Ganci , a tent compound inside prison walls but outside the buildings where the abuse occurred. Local MPs said they didn't witness the level of abuse documented in photos, but they sometimes glimpsed compliant detainees being mistreated, and told their bosses what they'd seen.
Now, as they replay their time at Abu Ghraib, some wonder if they missed clues about what was unfolding elsewhere within the 280-acre complex, about twice the size of Norfolk State University's campus. One 229th member was singled out for praise after he and his soldiers saw, stopped and reported an abusive act in September. First Lt. David O. Sutton , a Newport News police officer, was one of three people commended in a critical report on prison management by Maj. Gen. Antonio Taguba .
Although the growing scandal hasn't blackened the unit's name, members feel it has tarnished their image as military police. "It's disappointing," said Sgt. 1st Class Daryl Plude , 32, a Virginia Beach police officer . "What frustrates me more than anything is that the actions of those few have given the entire MP Corps a black eye. That's what people think – everybody that was there was involved in it." Another soldier, 23-year-old Alyce Clark , a specialist since promoted to sergeant , put it this way: "It hurts me. I'm a die-hard military police officer. I'm embarrassed."
Waiting for work
The Virginia National Guard unit was no stranger to active duty when it was re mobilized in February 2003 . After Sept. 11, 2001, the company spent nine months in Northern Virginia providing security for National Guard headquarters, an Army fort and Reagan Washington National Airport.
Jones said plans originally called for the 229th to handle Iraqi prisoners of war, and they trained for that mission at Camp Atterbury, Ind. , before heading overseas.
In April 2003, the 229th flew to Kuwait. After a few restless weeks of waiting for an assignment, they received one: dealing not with prisoners of war, but with pallets and packages on customs duty. In July, with some soldiers figuring they would spend the year in the rear, the 229th received orders to head to the Baghdad Central Confinement Facility , or Abu Ghraib.
Sgt. Gerald Clemens , 45 , was glad to get to a forward operating base. "I felt like we were at least doing something, instead of sitting in the rear area," he said. But once there, the Spartan conditions and the difficult job of guarding, not fighting , the enemy wore him down. Like the majority of MP units, the 229th is trained in combat support – tasks such as providing security and dealing with enemy prisoners of war.
In Army terminology, their specialty is called "95 Bravo ." Another brand of MPs – "95 Charlies " – are trained for work in prisons. They are taught how to process and observe inmates, detect problems, oversee visitation and work in guard towers. "We're not supposed to handle that at all – that is a whole different ballgame," Clemens said.
Jones, the commanding officer, said it can be hard for soldiers to switch from an offensive to a protective role. But he said his soldiers were capable of adapting and had the basic training they needed. "What we were doing wasn't rocket science," Jones said. "It really involved a lot of basic human, common sense." But what they were doing also required basic supplies the 229th often lacked.
Plude said the battalion didn't have enough handcuffs, so a soldier contacted a U.S. manufacturer, which sent 50 pairs. Other reservists got word to their departments back home to send flashlights and bullet-resistant vests. "I don't know why we didn't have it, but we didn't," Plude said.
Members of the 229th put personal power tools to use. They tore apart old tent crates to make shower stalls, built sinks and desks and bought their own water heaters. Eventually, after washing their uniforms in buckets with bottled water, the company bought a washing machine and dryer. Detainees were resourceful as well.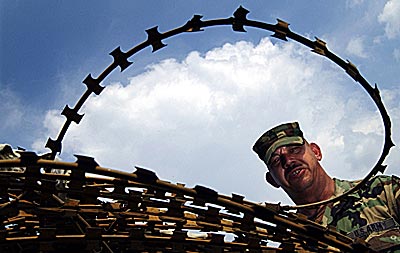 Having figured his company would spend the year on customs duty, Sgt. Gerald Clemens said he was glad to get to a forward operating base. "I felt like we were at least doing something, instead of sitting in the rear area."
When it got cold, Plude said, detainees converted wool blankets into overcoats, sewing them with threads they obtained by pulling apart the fibers in nylon rope. Seven or eight plastic pouches from MREs – meals ready to eat – could be turned into bags to hold their personal effects, he said; camouflage prayer rugs became shorts. But some detainees also turned pieces of metal scrounged out of the ground into crude weapons.
The daily grind
Guards and captives at Camp Ganci – named for Peter Ganci , a New York City Fire Department chief killed on Sept. 11, 2001 – spent long days trapped in routines. When the 229th arrived last summer, the camp had two wire-ringed compounds, each holding about 500 people. By the time the company left, about 4,000 detainees filled eight compounds. Detainees slept in large tents and passed their time playing soccer in the dirt behind razor wire. On 12-hour shifts, the soldiers stood watch in guard towers, patrolled on foot, made rounds in Humvees.
Both groups ate pre-packaged MREs. About 25 members of the 229th were part of a select, internal reaction force that trained with riot sticks, helmets, shields and dogs and stayed on alert around the clock in case fights or riots broke out. Others in that squad transported detainees back and forth to the prison "hard site," where military intelligence units conducted interrogations. At first, the camp had many civilian detainees, Iraqis caught up in security sweeps or those brought in for petty crimes, as well as men and boys accused of crimes against U.S. and coalition troops.
When Clark worked in the tower, her blond hair caught detainees' attention, and they would sometimes crowd beneath her. "I want you to be my girlfriend," some would say. "Why do you hate us? Why are you here? Can I have your apple?" Clark said the men would sometimes serenade her, drumming on empty water jugs for accompaniment. Though advised not to be too friendly, Clark said she sometimes couldn't help it. "I figured, 'Be nice, because they'd listen to you,'" she said. One detainee asked for a rosary, and she got him one. Another, named Wissam, talked to her about his young daughter and his dream of immigrating to the United States.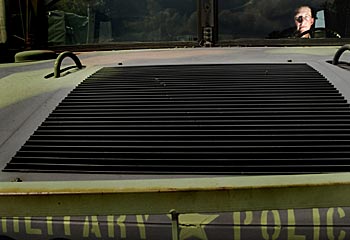 Sgt. Alyce Clark sits inside a truck of the 229th Military Police Company based in Virginia Beach earlier this month. Clark said of the Abu Ghraib scandal: "It hurts me. I'm a die-hard military police officer. I'm embarrassed." Photos courtesy of courtesy of Daryl Plude.
"He was always doing work detail, he didn't want to be bored," Clark recalled. When Wissam was released from Abu Ghraib, Clark gave him a picture of the American flag and told him she hoped that he'd make it to New York.
Aggression rises
As fall turned into winter, Jones said, civilian detainees were slowly transferred out of Camp Ganci, leaving behind mostly those suspected of coalition attacks. The prison population approached 7,000 detainees, according to the Taguba report. Under Saddam, it reportedly held as many as 15,000 . Tempers flared as temperatures fell. Clemens said he saw detainees spit on soldiers, masturbate in front of female guards and refuse to use the latrines so they could defecate in view of the guards.
"I kept trying to explain to young MPs, you have to be standoffish, detached," Clemens said. "Some people are here by mistake, some are awaiting processing, some were picked up in a sweep. Your only rules are to make sure they follow the rules." One night, the internal reaction force was called into a compound because a group of 24 detainees had tried to rape a 14-year-old male detainee , Clemens said. The boy identified his attackers, and they were moved to cell blocks.
In late November, detainees started a riot that injured nine MPs, including a few members of the 229th, though none seriously. Three detainees were killed. Jones, the 229th's commander, said the riot was something of a turning point for the company. Younger soldiers realized, he said, that "this can go south pretty quick. "It made people aware that those prisoners in there are enemies. They are not your friends, they are not people who you will ever go out and have a beer with."
Clark said she still has nightmares about the riot and about the shelling her company took almost nightly at Abu Ghraib. During one mortar attack in September , she took cover under a portable generator. Lying in the dirt, she said, she was glad she'd talked to her parents in Norfolk that day – the first time she reached them by telephone from Iraq. "I'd told my parents I loved them that day, so I was good to go," she said.
The shellings prompted Clemens to volunteer for a nightly shift in an exterior tower, manning a .50-caliber machine gun. Returning fire from insurgents targeting the prison was "one of the few ways I could be proactive instead of re active," Clemens said. "I'm some deterrent at that point. I refused to feel helpless." Clemens and Clark both returned to Virginia in December along with a few dozen other members of the 229th who had completed their service requirements.
Those who stayed behind found a new outlet for their frustration: helping a local elementary school badly in need of supplies. In their time off, the company members built cabinets and shelves for a project they dubbed "Operation School Supply ."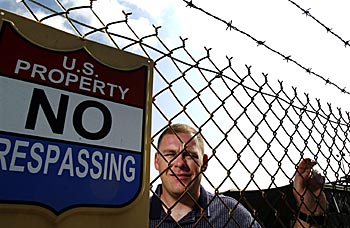 Sgt. 1st Class Daryl Plude exchanges thumbs-up with a boy at an elementary school in Abu Ghraib. Soldiers built cabinets for the school.
In January, they asked folks back home to send supplies. They received so many care packages that the unit spread the wealth among eight schools. Plude said the boxes were still arriving when the 229th left Iraq in April .
Reporting the wrongs
The rest of the company returned to Virginia on April 19 . Nine days later, CBS News broadcast the first photos of prisoners at Abu Ghraib being abused. The graphic images shocked the local soldiers. Some had seen soldiers use questionable tactics, but nothing, they said, like what they saw on TV. Clark once delivered a detainee to a captain from another company. The captain pointed at his knee and told her to bring the cooperative detainee closer.
"I just didn't do it," Clark said.
The captain kneed the detainee in the groin anyway. She later saw him slam a detainee's head – covered by a sandbag – against the wall for no apparent reason. "I reported that to my chain of command," Clark said. At the top of the 229th's chain, Jones took the same approach. "There's going to be gray lines," Jones said , "… but as far as severe things, those did come to my attention, and I forwarded them to my chain of command."
That's what happened in September, when the internal reaction force stopped an act of abuse it had witnessed. Plude said he couldn't discuss it in detail because of an on going investigation, but "we saw something we didn't agree with, we stopped it, and we reported it." Everyone in the squad who witnessed abuse wrote a report on what they had seen, and Jones said he forwarded the statements to his boss, Lt. Col. Jerry Phillabaum , commander of the 320th MP Battalion , which ran the prison.
The incident didn't come up again until early 2004, when the Army began investigating allegations of mistreatment. In February , Jones, Sutton and Plude were summoned to Camp Victory, one of Saddam's former palaces, and interviewed by high-ranking officers working for Taguba. When Taguba's report was submitted to the Army in March, it concluded that Phillabaum "was an extremely ineffective commander and leader" who was also "reprimanded for lapses in accountability that resulted in several escapes."
Though photos that have recently come to light show dogs being used to intimidate individual inmates, Clemens and Plude said that wasn't the case with the three dogs assigned to their squad. One of the dog handlers who worked with the 229th – Navy Master-at-Arms 1st Class William J. Kimbro – was singled out for praise by Taguba. Kimbro "knew his duties and refused to participate in improper interrogations despite significant pressure from the military intelligence personnel at Abu Ghraib," the report concluded.
Jones, who has not yet returned to his civilian job in Northern Virginia as an accountant, said he credits his soldiers for their professionalism and vigilance. "Military law enforcement is different than civilian law enforcement, but it all comes back to basic human decency," Jones said. Clark, who helps install air-conditioning units and hopes to become a Norfolk police officer, finds herself thinking a lot about human decency these days. She wonders how Wissam is doing and replays her time at Abu Ghraib.
"Part of me feels like we were over there doing our job, and when I see all this stuff, I wonder, did we do our job? I question, was our job complete? Could you have done something to change that?" (PilotOnLine.com)
---
June 22, 2004 - 14 soldiers mobilized to train Afghan National Army - A team of Oregon National Guardsmen from the 41st Separate Infantry Brigade is being mobilized this week and will be sent later this summer to Afghanistan to help train the Afghan National Army, Oregon National Guard spokeswoman Kay Fristad said Tuesday. The Tigard-based team is made up of 14 soldiers, who will travel to Afghanistan with the 76th Brigade from Indiana.
The team will fly Friday to Camp Atterbury in Indiana to meet up with the 76th Brigade and will deploy to Afghanistan in late summer, Fristad said. The soldiers will spend about a year in Afghanistan, she said. (Associated Press)
---
June 23, 2004 - Missouri guardsmen to leave for training -
A group of 16 soldiers with the Missouri Army National Guard will be mobilized for Operation Enduring Freedom after a departure ceremony tomorrow in Jefferson City.
After the 10 a.m. ceremony at the Missouri National Guard Armory, 801 Armory Drive, the unit will depart for additional training at Camp Atterbury, Ind. They will serve 545 days in support of Operation Enduring Freedom.
The unit consists of senior and noncommissioned officers from a variety of military specialties and unit locations throughout Missouri. Their home units include the 20th Aviation Brigade of Warrensburg, the 35th Support Command of Lexington, the 70th Troop Command of Jefferson City and the 135th Field Artillery Brigade of Sedalia. (comumbiatribune.com)
---
June 24, 2004 -
106th Aviation Unit is Coming Home
- After nearly a year and a half in Iraq the 106th Aviation Unit based out of Mt. Joy is in the US and is on their way home.
For the past 18 months it's been an emotional roller coaster for many of the soldiers and their family members. Army Specialist, Chad Baetke, a member of the 106th who is home now, knows what emotions his fellow soldiers will be going through when they finally get home.
"Some of the guys aren't going to believe it until they are home," says Baetke. He knows his unit is ready to be home after suffering through their share of disappointments. Baetke is still recovering from extensive injuries he received after his Chinook helicopter was shot down on November 2nd. A more recent disappointment was when the unit's duty was extended by nearly 90 days. Two members of the unit, Chief Warrant Officer Bruce Smith of West Liberty and Sgt. Paul Fisher of Cedar Rapids, were among 16 soldiers who died when a surface-to-air missile hit their Chinook helicopter in November.
The unit arrived at
Camp Atterbury, Indiana early Thursday morning and should be home sometime early next week.
---
June 28, 2004 - 1,100 troops in Guard will train Afghans
After a send-off ceremony this week and a few days with their families, more than 1,100 Indiana National Guard members will head to Afghanistan to help train the Afghan National Army.
Gov. Joe Kernan and Maj. Gen. R. Martin Umbarger, commander of the Indiana National Guard, will speak at a departure ceremony Thursday for the 76th Infantry Brigade, which includes units in Indianapolis, New Albany and Columbus.
The 9 a.m. event at the Veterans Memorial at Camp Atterbury, near Edinburgh, is open to the public.
"It's basically for the morale of the soldiers," said 2nd Lt. Eugene Maharry, an Indiana National Guard spokesman, "to show their state is behind them, their country is behind them."
Members of the brigade -- which includes the Indianapolis-based Headquarters Company of the 76th, the New-Albany-based 1st Battalion, 151st Infantry Regiment and the Columbus-based 113th Support Battalion -- reported to Camp Atterbury earlier this year.
Since then, they have undergone physical training and medical screenings and filled out paperwork in anticipation of their mission, Maharry said.
After the ceremony the men and women of the 76th will have a few days with their families before deploying to Afghanistan, said Maj. Mike Brady, a spokesman for Camp Atterbury. They are expected to serve there for about a year.
They will train the Afghan National Army in areas like marksmanship, land navigation, patrolling and leadership skills, Brady said.
The U.S. has expanded its force in Afghanistan to 20,000 in recent months to train the new army and police force and serve as a stabilizing influence in advance of elections planned for September.
About 6,500 Army and Air National Guard troops from Indiana have served on active duty in the war on terror since 2001. Last year, nearly 1,500 Indiana Guard soldiers served in the Middle East during the U.S. invasion and occupation of Iraq.
Most have returned home. (By Cory Schouten, IndyStar.com)
---
June 28, 2004 - U.S. Transfers Sovereignty to Iraqi Govt.
BAGHDAD, Iraq (AP) -- The U.S.-led coalition transferred sovereignty to an interim Iraqi government two days early Monday in a surprise move that apparently caught insurgents off guard, averting a feared campaign of attacks to sabotage the highly symbolic step toward self-rule.
Legal documents transferring sovereignty were handed over by U.S. governor L. Paul Bremer to chief justice Midhat al-Mahmood in a small ceremony attended by about a half dozen Iraqi and coalition officials in the heavily guarded Green Zone. Bremer took charge in Iraq about a year ago. This is a historical day," Interim Prime Minister Iyad Allawi said during the ceremony. "We feel we are capable of controlling the security situation."
Militants had conducted a campaign of car bombings, kidnappings and other violence that killed hundreds of Iraqis in recent weeks and was designed to disrupt the transfer, announced by the Bush administration late last year. Intially, the Americans were thought to have planned for about one more year of occupation. Two hours after the ceremony Bremer left Iraq on a U.S. Air Force C-130, said Robert Tappan, an official of the former coalition occupation authority. Bremer was accompanied by coalition spokesman Dan Senor and close members of his staff. Bremer's destination was not given, but an aide said he was "going home."
The new interim government was sworn in six hours after the handover ceremony, which Western governments largely hailed as a necessary next step. The Arab world voiced cautious optimism, but maintained calls for the U.S. military to leave the country quickly. Allawi delivered a sweeping speech sketching out some of his goals for the country, urging people not to be afraid of the "outlaws" fighting against "Islam and Muslims," assuring them that "God is with us."
"I warn the forces of terror once again," he said "We will not forget who stood with us and against us in this crisis." Members of Allawi's Cabinet each stepped forward to place their right hand on the Quran and pledged to accept their new duties with sincerity and impartiality. Behind them, a bank of Iraqi flags lined the podium.
"Before us is a challenge and a burden and we ask God almighty to give us the patience and guide us to take this country whose people deserves all goodness," said President Ghazi al-Yawer after taking his oath. "May God protect Iraq and its citizens." The NATO alliance quickly said it would begin training the Iraqi military, which faces a daunting task in putting down the growing insurgency threatening the country. (By TAREK EL-TABLAWY, Associated Press Writer)
---
June 30, 2004 -
Indiana Guard unit receives send off
More than 1,100 Indiana National Guard soldiers will have only a few more days at home after a send-off ceremony this morning at Camp Atterbury.
Both Gov. Joe Kernan and Maj. Gen. R. Martin Umbarger were scheduled to address many of the soldiers this morning at Veterans Memorial at the base during a departure ceremony for the 76th Infantry Brigade.
Members of the brigade have been training since earlier this year for a year-long mission in Afghanistan where they will help train the Afghan National Army.
About 6,500 Army and Air National Guard troops from Indiana have served on active duty since 2001. Last year, nearly 1,500 Indiana Guard soldiers served in the Middle East during the U.S. invasion and occupation of Iraq.
Most have returned home.
The brigade includes the Headquarters Company, which is based in Indianapolis, the 1st Battalion, the 151st Infantry Regiment and the 113th Support Battalion.
---
June 30, 2004 - More Indiana Troops Prepare to Leave
(WISH-TV)

(WISH-TV)

(WISH-TV)

(WISH-TV)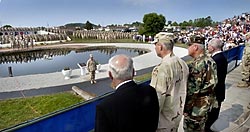 More Indiana troops are heading overseas. This time it's the members of the Indiana National Guard 76th Infantry Brigade.
Governor Joe Kernan bade them farewell at ceremony at Camp Atterbury on Thursday morning.
"We have deployed almost 7600 more than half of the men and women who serve in the guard," said the governor.
Indiana has the fifth largest National Guard unit in the country. Thursday about a thousand more Indiana National Guard troops said goodbye. Chris Egan's husband was one of them.
"We had a lot of mixed emotions. Just sadness and anxiety and just not knowing what's going to happen."
This time the deployment is for Coalition Joint Task Force Phoenix Three. Their mission is to train the Afghan army.
Governor Kernan, a Viet-Nam veteran and former POW, wished the troops well.
"All the people unanimously in the state of Indiana support you also."
"There is great pride in knowing your governor also served his country at one point in time and then also give his history. It feels very, very good that he's going to have support for both family and fellow servicemen," said SFC Brad Egan.
Egan has to say goodbye to his wife and infant daughter, which he says is the hardest part of the job.
"Separation from family, from friends, from community -- but at the same time we'll get that support in other ways."
His wife has a different job.
"I think the hardest part is just basically trying to stay strong and be supportive for our children and just to reassure them that everything will be ok," said Chris.
So like the rest of the families there were kisses and hugs and a reassuring handshake from the governor.
The troops won't officially depart for another month. This month will be spent training at Camp Atterbury and they don't know how long they will be gone.
These are the first troops to receive Operation Sand Save care packages from the Indiana Professional Golf Association. (By Gene Rodriguez Photos by Shawn Pierce)